Julia Roberts and Mark Ruffalo To Star in HBO's The Normal Heart
Larry Kramer's Broadway Play The Normal Heart Will Soon Be An HBO Television Film Starring Julia Roberts, Mark Ruffalo, And Matt Bomer
---
Broadway Play "The Normal Heart" Makes It To The Screen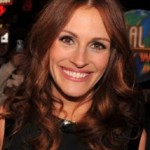 Larry Kramer's play The Normal Heart, which had a Tony Award-winning revival on Broadway in 2011, will finally make it to the screen in a HBO television film starring Julia Roberts, Mark Ruffalo (The Avengers), and Matt Bomer (Magic Mike, TV's White Collar).
Kramer has written the film adaptation of his drama, and Ryan Murphy (Glee, Eat Pray Love) will direct. HBO Programming president Michael Lombardo stated, "Ryan has assembled an extraordinary cast to bring Larry Kramer's landmark theatrical achievement to the screen for the first time, and we couldn't be more thrilled to bring this important film to HBO."
Starring Julia Roberts And Mark Ruffalo
The movie is expected to debut on HBO in 2014. In The Normal Heart, Mark Ruffalo will star as Ned Weeks, an activist who struggles to communicate the dangers of the burgeoning AIDS epidemic to the community as it first begins to unfold in the early 1980s. Julia Roberts will take on the role of Dr. Emma Brookner, a doctor who treats many of the earliest AIDS victims.
Discount Broadway Tickets
---
---