John Patrick Shanley's "Outside Mullingar" Closes
Outside Of Mullingar, Starring Debra Messing, Concludes Its Run On Broadway With Mixed Reviews It Did Not Reach Full Recoupment But Still Considered A Success.
---
Newest Pulitzer Prize Winning Play Concludes On Broadway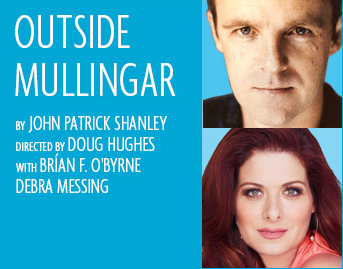 Outside Mullingar, the newest play by Pulitzer Prize winner John Patrick Shanley, has concluded its run on Broadway. The Manhattan Theatre Club produced this Irish romantic comedy at its Broadway house, the Samuel J. Friedman Theatre on West 47th Street.
Directed by Doug Hughes, the play began previews on January 3, 2014 and officially opened on January 23, 2014, playing its final performance on Sunday, March 16, 2014.
Debra Messing Makes Her Broadway Debut
The play starred Debra Messing (Will & Grace) in her Broadway debut, alongside Brían F. O'Byrne (Doubt, The Coast of Utopia), Dearbhla Molloy (A Touch of the Poet, Dancing at Lughnasa), and Peter Maloney (West Side Story).
The play was a New York Times Critics' Pick, with critic Charles Isherwood calling it "Mr. Shanley's finest work since Doubt," which won both the Tony Award and Pulitzer Prize in 2005, and which was adapted into a feature film, also penned by Shanley, in 2008.
The Story Of "Outside Mullingar"
Taking place in the Midlands of Ireland in contemporary times, Outside Mullingar tells the story of an Irish father named Tony (Maloney), his terminally shy son Anthony (O'Byrne), and their neighbor Rosemary (Messing) who watches the years go by as she harbors a romantic devotion to Anthony.
Despite a land feud between their families, and Tony threatening to disinherit Anthony, the lovers fight their way toward some kind of stability and hope for the future. Critics were largely supportive of this production, with The New York Times, Hollywood Reporter, and NBC all giving it raves.
Audiences Fill The Theatres
Entertainment Weekly, on the other hand, called it "sweet but peculiar" and Newsday deemed it a "95-minute oddity." In any case, this world premiere by such a beloved playwright did fairly well in terms of attracting an audience, finishing off its run with average capacity well above 90 percent.
Though it averaged only around 50 percent in terms of reaching its gross potential, this is largely due to the Manhattan Theatre Club's large subscription audience, who benefit from discount tickets through buying the season in bulk. Fortunately, as this is a Broadway production mounted by a not-for-profit theatre institution, the play did not need to rely on full recoupment of its capitalization in order to deem the production a financial success.