Jimmy Buffett's "Escape to Margaritaville" Begins Previews
Jimmy Buffett'S Escape To Margaritaville Has Begun Previews On Broadway At The Marquis Theatre With Big Stars, And Directed By Christopher Ashley.
---
Jimmy Buffett Expands Margaritaville Enterprise to Broadway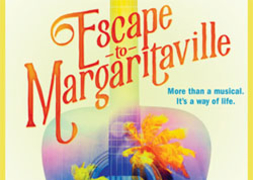 On February 16, 2018, Escape to Margaritaville begins previews at Broadway's Marquis Theatre, where it will then have its official opening night on March 15, 2018. The show has a book by Greg Garcia and Mike O'Malley, both of whom are making their Broadway debut with this show, as well as music and lyrics by Jimmy Buffett.
Buffett is a musician and entrepreneur, who has released over 30 albums, written three best-selling books, and launched numerous business ventures. Best known for his music, he is renowned for his particular style that has been described as "drunken Caribbean rock n roll," and also as "gulf and western," as his influences include country and Western music, as well as folk rock and tropical tunes from the Gulf of Mexico region.
Escape To Margaritaville
Of his many music albums, 8 are Gold Albums and 9 are Platinum or Multi Platinum selling albums. While his commercial success is undeniable, he has never received recognition from the Grammy Awards. In any case, that hasn't stopped Buffett, who has also gone on to start record labels, a beer enterprise in partnership with Anheuser-Busch, a casino in Atlantic City, a video game business, a partnership with the Miami Dolphins football team, and a billion dollar real estate venture in Daytona Beach, Florida.
Escape to Margaritaville is his newest venture, taking his best-known asset, his music, and pairing it with a story to make a Broadway musical.
A Successful Try Out Run at the La Jolla Playhouse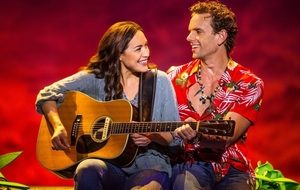 Escape to Margaritaville comes to Broadway following a successful try out run at the La Jolla Playhouse in southern California, where the show ran in its world premiere from May 9, 2017 to July 9, 2017. While the show was originally scheduled to close earlier, it extended multiple times in order to account for unprecedented demand.
In his review of the La Jolla production, Charles McNulty from the Los Angeles Times called it a "dopey-fun" musical, remarking that inebriation is likely to increase the pleasure of watching the show. While he critiqued the "cartoonish" supporting characters and the "completely preposterous" happy ending, he did admit that the show is "pure escapism," and he ultimately conceded that he had a good time.
Margaritaville Is A New Broadway Hit
Following the La Jolla premiere, the show had brief runs in New Orleans, Houston, and Chicago, making its way to arrive on Broadway this week. The show is directed by La Jolla artistic director Christopher Ashley, who also directed the currently running show Come From Away, and whose La Jolla Playhouse is also responsible for developing other recent shows including Latin History for Morons, Junk, Indecent, and Doctor Zhivago. Therefore, Ashley and his theatre are on a roll, and Escape to Margaritaville is his newest offering. The choreographer is Kelly Devine, who also held that post on Come From Away, Doctor Zhivago, and Rocky.

The Story of a Relaxed Island Paradise
While Escape to Margaritaville is surely a jukebox musical, in that it uses Jimmy Buffett's catalogue of existing tunes to tell a story, it differs from other shows like Mamma Mia! in that it lives purely in the world that Buffett has been building for his whole musical career. His songs sing the virtues of a relaxed, carefree life, preferably on an island, and this show is a tribute to just that.
Including songs such as "License to Chill," "Why Don't We Get Drunk," "Cheeseburger in Paradise," "Margaritaville," and "My Head Hurts, My Feet Stink and I Don't Love Jesus," it is the story of a part-time bartender, part-time singer named Tully, who questions the life he's been building when a beautiful career-minded tourist named Rachel steals his heart away. Many of the cast from the try out productions reprise their role on Broadway.
Star-Studded Cast
The Broadway cast includes Paul Alexander Nolan (Bright Star, Doctor Zhivago) as Tully, Alison Luff (Les Misérables, Matilda the Musical) as Rachel, Lisa Howard (It Shoulda Been You, Priscilla Queen of the Desert) as Tammy, as well as Eric Petersen, Don Sparks, Andre Ward, Rema Webb, and a large ensemble. The show is scheduled for an open-ended run.