Jesse Tyler Ferguson Opens "Fully Committed"
Fully Committed Opened On Broadway At The Lyceum Theatre Starring Jesse Tyler Ferguson And Directed By Jason Moore.
---
A One-Man Broadway Show About The Cut-Throat Restaurant Industry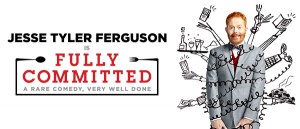 This past week, Fully Committed opened at the Lyceum Theatre, where it had been running in previews since April 1, 2016. Written by Becky Mode, and based on characters by Becky Mode and Mark Setlock, the play first premiered Off-Broadway at the Vineyard Theatre in 1999, starring Mark Setlock.
Inspired by experiences that the duo had working in the restaurant industry, hustling to pay their bills while aspiring to succeed in the entertainment industry, the play was a huge success and transferred to the Cherry Lane Theatre, where it ran for a year and a half.
"Fully Committed" Has Productions World-Wide
Since 2001, Fully Committed has been one of the most produced plays in the U.S., and has had extended productions in London, Paris, Los Angeles, San Francisco, and Boston, and has also played in countries all over the world such as Japan, Finland, Brazil, South Africa, and Australia. It is thereabout about time that the play found its way to Broadway, where it is directed by Jason Moore (Shrek the Musical, Steel Magnolias, Avenue Q), and stars Jesse Tyler Ferguson.
Ferguson is an energetic and versatile actor best known for his role as Mitchell Pritchett on the ABC television series Modern Family, for which he has received five nominations for the Primetime Emmy Award for Best Supporting Actor in a Comedy Series. He was previously on the CBS show The Class, and on Broadway, he has been seen in The 25th Annual Putnam County Spelling Bee and On the Town.
General Enthusiasm But Mixed Reviews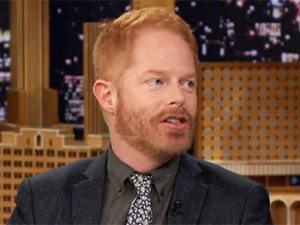 Upon the show's opening, Charles Isherwood from The New York Times responded positively to Ferguson's boundless energy and comedic chops, but ultimately felt that the show felt "shrunken" in the larger Broadway theatre.
Despite the skillful set design by Derek McLane, he felt that Fully Committed was better suited to the smaller stage on which it originally premiered. Other critics were more positive. Adam Feldman from Time Out New York found the play to be delightful, thrilled by the versatility of Ferguson who portrays around three dozen people over the course of 80 minutes.
Ferguson Praised For Comedic Skill
Jeremy Gerard from Deadline was also charmed by the play, relishing Ferguson's comedic skill as he tackles the human mountains and valleys of these many diverse characters; he just "ate it up." Marilyn Stasio from Variety found the show to be a tour-de-force, remarking that Ferguson's performance serves as a reminder of why this play is among the ten most produced in the country.
Still, David Rooney from The Hollywood Reporter was less enthusiastic, admits that "tour-de-force" is a fair description of this performance, but ultimately felt that the sweat didn't add up to more than a string of jokes that are only sometimes funny.
Mediocre Box Office But Fair For A One-Man Show
As to be expected for a one-man show, the box office for Fully Committed has not be a sell-out success. It is difficult for such a small-scale production to compete with the larger dramas, not the mention the glitzy musicals and spectacles, and although Jesse Tyler Ferguson is a household name, he is not an absolutely unmissable A-list star.
In the last reported week of box office figures, the week ending May 1, 2016, Fully Committed brought in a weekly gross of $377,270, which represents 43.91% of its gross potential. With a top ticket price of $250.00, the average paid admission was $67.30, and the audience was filled up to an average of 76.7% of its capacity.
"Fully Committed" May Struggle To Break Even
Over the course of the run so far, the average percentage reached of gross potential has been 44.44%, and the average paid admission has been $70.22. Therefore, while this show will certainly delight many audience members, it may have a hard time breaking even.
It will help that the show must have low running costs, but without reaching even half of its gross potential, the show will not likely enter profits before it closes on July 24, 2016.