"Jersey Boys" Ends Extraordinary Broadway Run
Tony Award Winner For Best Musical Jersey Boys Concluded On January 15, 2017 After 11 Years And Substantial Profits.
---
Over 11 Years And 4,672 Performances For Jukebox Musical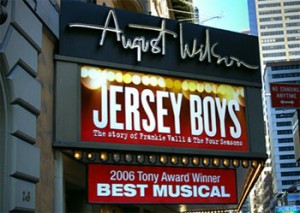 On October 4, 2005, Broadway previews began for a jukebox musical called Jersey Boys, based off the life and music of Frankie Valli and the Four Seasons, which had received positive reviews in its out-of-town tryout at the La Jolla Playhouse.
Even the most optimistic of producers would most likely not have predicted that the show would go on to run for over 11 years on Broadway, playing 4,672 performances, in addition to simultaneous national tours and productions all around the world.
12th Longest Running Show On Broadway
As of January 15, 2017, this show has concluded its Broadway run. At present, Jersey Boys holds the record for the 12th longest running Broadway show of all time. The show has a book by Marshall Brickman and Rick Elice, with music by Bob Gaudio and lyrics by Bob Crewe, along with orchestrations by Steve Orich.
The musical was directed by Des McAnuff, who was the artistic director at the time of the La Jolla Playhouse, and whose Broadway credits included directing How to Succeed in Business Without Really Trying, in addition to being a member of the producing entity Dodger Theatricals, and the choreographer was Sergio Trujillo. The original cast included Christian Hoff, John Lloyd Young, Daniel Reichard, J. Robert Spencer as the Four Seasons. Upon closing, the final cast included Mark Ballas as Frankie Valli.
Tony Award Winning Best Musical And Feature Film Adaptation
If the catchy, upbeat, memorable songs of the Four Seasons alone weren't enough to make Jersey Boys a hit, then the honor of winning the 2006 Tony Award for Best Musical cinched the show's success. In addition, John Lloyd Young won the Tony Award for Best Leading Actor in a Musical, and Christian Hoff won the Tony Award for Best Featured Actor in a Musical.
The show was also nominated for Best Book of a Musical, Best Direction of a Musical, Best Orchestrations, Best Scenic Design of a Musical, and Best Lighting Design of a Musical, winning the latter. When the show then opened in London, it also took home the equivalent top honor, the 2008 Olivier Award for Best New Musical.
National And International Tours
In the meantime, a national tour took off not long after the Tony Awards. In December 2006, the first national tour launched from San Francisco, and continued on for 38 cities, breaking records along the way at regional theatres. While that first tour concluded on April 28, 2013, another tour had simultaneously begun with a second touring company starting December 6, 2011.
That tour is presently ongoing. In addition, a Chicago production ran in 2007, a Las Vegas production ran in 2008, a Toronto production picked up in 2008, and Australian productions ran in Melbourne in 2009 and Sydney in 2010. In addition, the musical was adapted into a feature film, which was released in 2014. With a budget of $58.6 million, the film managed to make a profit with a box office gross of $67.7 million, which was nowhere near what must have been hoped for. Nevertheless, the theatrical productions have been incredibly successful. The West End production is still running, and will conclude on March 26, 2017.
"Oh, What a Run!"
With such classic tunes as "Oh, What a Night!," "Big Girls Don't Cry," "Walk Like a Man," "My Boyfriend's Back," "Earth Angel," and "Can't Take My Eyes Off of You," Jersey Boys was a runaway hit at the box office. Over the course of its 11-year-plus run, it brought in a collective gross of over 557 million dollars.
Extraordinarily, even with the ups and downs inherent to a Broadway lifecycle, the show brought in on average 91.29% of its gross potential. For the original investors and producers, the show has been very lucrative indeed. About 40% of the initial capitalization came from La Jolla based investors who saw the show early on, rather than the regular pool of Broadway investors, some of whom invested as little as $12,500 in the beginning.
Investments Multiply In Tricky Market
Every one of those investors has since their money multiply by many degrees, which is very unusual in the tricky marketplace of Broadway. Some of these investors have become Broadway regulars, and others tried to invest in another show that flopped, only to learn the hard way how Jersey Boys was a magnificent exception.
While theatregoers will miss the opportunity to see Jersey Boys on Broadway on their trips to New York, there will still be many opportunities to catch this show around the world, and before we know it, the musical is likely to be revived again.