Jeff Daniels and Michelle Williams Wrap Up "Blackbird"
Blackbird, Starring Jeff Daniels, Closes On Broadway After Great Reviews And Awards Recognition But Middling Box Office.
---
Acclaimed Broadway Production Of David Harrower's Harrowing Two-Hander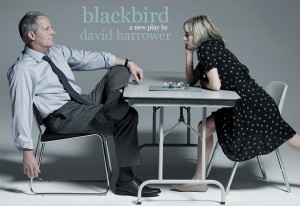 On June 11, 2016, the day before the Tony Awards, Blackbird concluded performances on Broadway. The run began previews on February 5, 2016, and had its official opening night on March 10, 2016.
Jeff Daniels had played this same part, Ray, back in 2007 Off-Broadway at the Manhattan Theatre Club, in a production that, like this Broadway run, was also directed by Joe Mantello. Upon opening, the show received excellent reviews from a wide array of publications.
Mixed Reviews For "Blackbird"
Time Out New York called it comfortless, and a reckoning of soiled innocence, praising how it brought the critic to the edge of his seat. Deadline called it electrifying, and that after the curtain came down, he felt as spent as the actors. The Hollywood Reporter called it a scorching pas de deux, praising the level of gravitas that Daniels brought to the role his second time around.
Vulture called it superb, complimenting the play by describing it as akin to a nightmare. Only Ben Brantley from The New York Times was a bit more critical, wishing that it had made more space for the gaping sense of absence that pervades the script.
Despite Accolades, A Tough Sell At The Box Office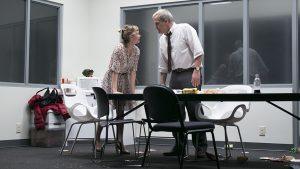 Throughout the course of its run, up until the penultimate week of performances, Blackbird brought in a collective gross of $7,303,281, which represents an average 48.70% reached of the show's gross potential.
The final week's box office figures will be reported early next week, which might boost this average slightly. Even with two bona fide Hollywood stars – Jeff Daniels and Michelle Williams – it was difficult to attract enough Broadway full price ticketbuyers to be interested in this two-hander drama, set against the competition of glitzy spectacles such as the new Cirque du Soleil show, and high-profile musicals such as Hamilton.
Broadway Ticket Prices Just Too High For Many Consumers
In the last reported week of box office figures, the week ending June 5, 2016, Blackbird brought in $413,284, which represented 46.32% of its gross potential. With a top ticket price of $248.00, the average paid admission was $72.76, and the average audience capacity was filled up to 70.0%.
It is shows like this one that demonstrate how the Broadway ticket price point is just unfortunately too high for many consumers. While families and tourists can often justify spending over $100 per ticket, and sometimes much more, on big musicals, small dramas, however powerful, have a more difficult time finding their footing in the Broadway marketplace.
Nominated For Three Tony Awards
Blackbird received three Tony Award nominations, including that for Best Revival of a Play. In addition, Jeff Daniels received his second Tony Award nomination for Best Performance by a Leading Actor in a Play. In 2009, he received his first Tony Award nomination for his performance in Yasmina Reza's God of Carnage.
Still, though he is mostly known as a film and television actor – with performances in such works as Terms of Endearment, Dumb and Dumber, The Purple Rose of Cairo, Something Wild, and The Newsroom – he has appeared on Broadway a total of six times. The first was in 1977 in Gemini, for which he was the assistant stage manager as well as an understudy for three roles.
Michelle Williams Received Tony Award Nomination For "Blackbird"
In 1980, he appeard in Fifth of July, in 1984 he was in The Golden Age, and in 1993 he was in Redwood Curtain. It wasn't until 2009 with God of Carnage, when he had really made a name for himself on screen, that the Tony committee began to take notice. As for Michelle Williams, she also received a Tony Award nomination for Blackbird, for the award for Best Performance by a Leading Actress in a Play.
This is Williams' second time on Broadway; her first was in the recent revival of Cabaret, in which she starred as Sally Bowles from March to November 2014. Blackbird marks her first Tony Award nomination.