Jason Mraz to Step into Sara Bareilles' "Waitress"
Jason Mraz Steps Into The Role Of Dr. Pomatter, Starring Opposite Betsy Wolfe, In Waitress on Broadway in New York City Starting November 3, 2017.
---
Grammy Award Winner Joins Sara Bareilles Broadway Musical For 10 Weeks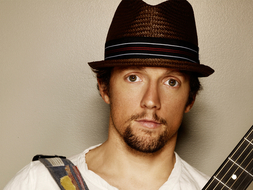 Starting November 3, 2017, Jason Mraz will step into the role of Dr. Pomatter in the Broadway production of Waitress, a role that he will hold for 10 weeks. He will star opposed Betsy Wolfe, who has been playing the lead role of Jenna since June 13, 2017.
Prior to Wolfe, the role was played by the show's composer, the beloved singer-songwriter Sara Bareilles, from March 31, 2017 to June 11, 2017. The role was originated by Jessie Mueller, who played the part from March 25, 2016 to March 26, 2017.
High Hopes For Success
As for the role of Dr. Pomatter, it was originated by Drew Gehling (On a Clear Day You Can See Forever, Jersey Boys), and was most recently played by Chris Diamantopoulos (The Full Monty, Les Misérables). Now, following in the trend of this show's success with a pop star in a lead role, Jason Mraz steps into the part early next month.
The part of Dr. Pomatter is a gynecologist with whom the protagonist, Jenna, has an affair after she finds herself newly pregnant and unhappy in her marriage, and so she sets her sights on a pie-baking contest to change her life.
Makes Broadway Debut After Successful Music Career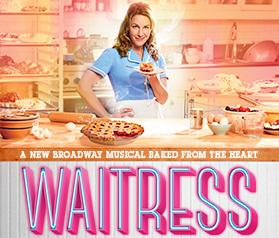 Jason Mraz first came to prominence in the year 2000 in the coffee shop scene in San Diego, and he released his debut album "Waiting for My Rocket to Come" in 2002. His popular songs from that album include "The Remedy (I Won't Worry)," as well as "You and I Both," "Who Need Shelter," and "Curbside Prophet." In 2005, he released his second album, "Mr. A-Z," which peaked at number 5 on the Billboard charts, cementing Mraz's success.
He was nominated for two Grammy Awards in 2009 for "I'm Yours," which is from his third studio album: "We Sing. We Dance. We Steal Things." Then, in 2010, he won two Grammy Awards, one for Best Male Pop Vocal Performance for "Make It Mine," and one for Best Pop Collaboration with Vocals for "Lucky," with Colbie Caillat.
Jason Mraz Broadway Debut
While Jason Mraz has never before been on Broadway, he did previously collaborate with Sara Bareilles on two song from Waitress – "Bad Idea" and "You Matter to Me" – for Bareilles' album "What's Inside: Songs from Waitress," released in 2015. Therefore, this is an exciting culmination of Mraz's collaboration with Bareilles, which also allows him to pivot his career and open up new possibilities for a life on the stage hereafter.