Jason Alexander Replaces Larry David in "Fish in the Dark"
Larry David Was Replaced By Jason Alexander In Fish In The Dark. Box Office Took A Major Dip When The Replacement Was Made.
---
Broadway Box Office Takes Major Dip With David's Departure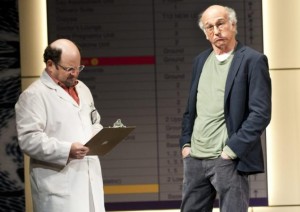 Fish in the Dark has been one of this season's major hits. Written by and starring Larry David, the creator of Seinfeld and creator/star of Curb Your Enthusiasm, this play marked the household name's Broadway debt.
The theatre-going audience was riveted by this new face on the big stage, as the box office receipts were immediately excellent right out of the gate, and stayed that way until Larry David's final performance on June 7, 2015. This was the same day as the Tony Awards.
Larry David Shines In "Fish In The Dark"
Although Fish in the Dark was not honored with any awards or nominations, there was a nod to the stardom of Larry David as he was given the honor of presenting the most coveted award and the final award of the evening: that for Best Musical. He presented this award to Fun Home. Despite this lack of accolades, Fish in the Dark was an undeniable box office success. It announced recoupment of its initial capitalization on May 20, 2015.
It brought in over one million dollars every week, with rising weekly grosses as the run went one, from the first full week of performances ending February 15, 2015 until Larry David's final week ending June 7, 2015. However, the moment Jason Alexander stepped in on June 9, 2015, the box office took a major dip. In his first week, the week ending June 14, 2015, the show saw a decrease in ticket sales of $403,563 from the week before.
Three Weeks Of Piddling Grosses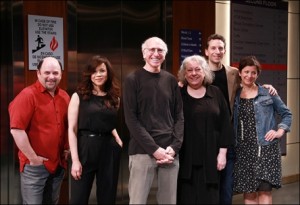 Though Jason Alexander is also a major star, he is also a much more prevalent face on Broadway, and fans were just not as excited to pay top dollar to see him. In the three weeks of full performances since Alexander took over, the weekly grosses have remained fairly constant.
Following the week ending June 14, 2015 with the weekly gross of $842,633, there was the week ending June 21, 2015 with a gross of $849,330, and then this past week ending June 28, 2015 had a weekly gross of $848,378.
"Fish In The Dark" Declines With Alexander In Lead
In this past week, the average paid admission was $107.66, which is still higher than many plays on Broadway, but it is a sharp decrease from the average paid admission in David's final week, which was $142.98.
Whereas David was regularly filling up the audience to an average capacity of 101.5%, the weekly average audience capacity since Jason Alexander took over have averaged about 90%. Finally, while the average percentage reached of gross potential during David's run was about 114%, the percentage reached of gross potential since Alexander took over has been about 81%.
Keeping It In The "Seinfeld" Family
When Jason Alexander played George Costanza on Seinfeld for many years, he was reportedly written to be a character based on Larry David himself. It is therefore appropriate that he should replace David in the role he wrote and played himself in his Broadway debut. Alexander is a common name on Broadway.
He was in the second cast of The Producers opposite Martin Short, when Matthew Broderick and Nathan Lane departed the production. He has also appeared in Accomplice, Jerome Robbins' Broadway, Broadway Bound, The Rink, and Merrily We Roll Along. Most of these roles were before his Seinfeld days, so he left his established position of appearing onstage when he became a sitcom regular.
Set To Conclude Performances on August 1
At this point, however, he is returning to his stage roots, combined with the creative source that made him a household name as well. However, he just isn't able to sell tickets the way Larry David can. Alexander continues with the show until its final performance on August 1, 2015.