James Lapine's 'Act One' Begins Previews
Act One Begins Previews At The Vivian Beaumont Theatre Starring Tony Shaloub And Santino Fontana, The Play Officially Opens On April 17, 2014.
---
New Play Begins Previews At The Vivian Beaumont Theatre, Lincoln Center's Broadway House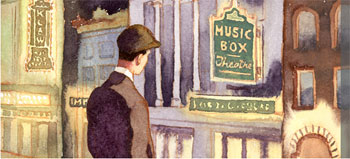 Written and directed by James Lapine, Act One is a stage adaptation of the 1954 memoir of the same name by Broadway playwright, director, and lyricist Moss Hart.
James Lapine brings to this project his own vast experience as a director and librettist, having won three Tony Awards for Best Book of a Musical (Into the Woods, Falsettos, Passion), as well as the Pulitzer Prize for Drama (Sunday in the Park with George).
"Act One" Tells The Story Of Moss Hart
Lapine is a frequent collaborator with the renowned composer Stephen Sondheim, having written the libretto for many of his scores and having served as director for many of his productions. Act One tells the story of Moss Hart's life, from his early years in the Bronx to his ascent to Broadway royalty, detailing his collaborations with the theatre multi-hyphenate George S. Kaufman.
When the memoir was published in 1954, it remained on The New York Times Bestseller List for 41 weeks, and the celebrated theatre journalist Frank Rich has called it "the greatest showbiz book ever written."
Tony Shalhoub Returns To The Stage
In this new stage adaptation, Tony Shalhoub (Golden Boy, Lend Me a Tenor) plays both Moss Hart and George S. Kaufman in their later years, and Santino Fontana (Rodgers + Hammerstein's Cinderella, Sunday in the Park with George) plays Hart as a younger man. The cast is rounded out by Andrea Martin, Chuck Cooper, Matthew Saldivar, Bob Stillman, Amy Warren, Bill Army, Will Brill, Laurel Casillo, Steven Kaplan, Will LeBow, Mimi Lieber, Charlotte Maier, Deborah Offner, and Matthew Schechter.
Several individuals in the cast and creative team are frequent faces at Lincoln Center. James Lapine returns to LCT after having written the book for the musical A New Brain, with music composed by William Finn, which played in 1998 at LCT's Off-Broadway house, the Mitzi E. Newhouse Theatre.
Santino Fontana Rising Broadway Star
Furthermore, LCT produced a revival of Lapine's play Twelve Dreams, which he also directed, at the Mitzi E. Newhouse Theatre in 1995. Tony Shalhoub returns to LCT after his acclaimed performance last year as Mr. Bonaparte in Clifford Odets' Golden Boy.
Though this is Santino Fontana's first time performing at Lincoln Center, he is a quickly rising Broadway star, having been nominated for a Tony Award for his originating starring role as Prince Topher in the still-running Broadway production of Rodgers + Hammerstein's Cinderella.
High Hopes For "Act One"
For Lincoln Center to premiere a new play at their Broadway house, they must have confidence that it is of superb quality. Their website coverage is certainly enthusiastic, detailing how wildly popular the memoir has been for the last half century, and explaining how Moss Hart's tale is the classic New York story – not only because he ended up making it big, but also because he truly struggled in his early years.
After the play officially opens on April 17, 2014, it will be discernible whether James Lapine's production succeeds in matching up to the stupendous career of the man it profiles.
Discount Broadway Tickets
---
---