James Barbour Hosts Holiday Concerts Dec 6-8
The 5th Annual Holiday Concert Series Featuring The Beautiful Baritone Of Broadway's James Barbour, Will Be At Sardi's December 6-8Th.
---
Broadway Star James Barbour Presents 5th Annual Holiday Concert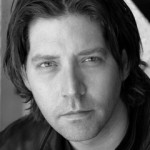 Broadway leading man James Barbour (A Tale of Two Cities, Jane Eyre) presents his fifth annual holiday season concert series at Sardi's, December 6-8. Under the musical direction of Jeremy Roberts, the concerts will feature Barbour singing a mix of holiday music and beloved Broadway ballads in his warm, beautiful baritone voice.
He will also be singing songs from his CD, "Bring Me Giants". Each holiday concert begins at 9pm and will take place at the legendary Broadway establishment Sardi's, located at 234 West 44th Street (2nd floor).
Ticket Information
Tickets are priced at $25, $45, and $65, and are available through smarttix.com or by calling 212-868-4444. A special "Santa Seating Gift Give Away" is being introduced this year. At each evening's concert, a Kindle Fire will be given to one lucky guest.