"It's Only A Play" Begins Performances on Broadway
It's Only A Play Began Previews On Broadway On August 28, 2014 Starring Matthew Broderick, Nathan Lane, Stockard Channing, And F. Murray Abraham.
---
An All-Star Cast

Nathan Lane and Matthew Broderick are back at it again. The hilarious team behind The Producers has reunited for Terrence McNally's It's Only a Play, which began previews on August 28, 2014 at the Gerald Schoenfeld Theatre.
Directed by Jack O'Brien (The Nance, The Coast of Utopia), the play will officially open on October 9, 2014, and is slated to run for a limited engagement until January 4, 2015.
"It's Only A Play" Award-Winning Dream Team
The play premiered Off-Off-Broadway in 1982, and then Off-Broadway in 1986 produced by Manhattan Theatre Club; this is the play's Broadway premiere.
Not only does the cast feature The Producers dream team Broderick and Lane, but it also includes Academy Award winner F. Murray Abraham, Emmy and Tony Award winner Stockard Channing, Harry Potter film star Rupert Grint making his Broadway debut, Emmy Award winner Megan Mulally, and a newcomer named Micah Stock. This all-star cast is sure to make a huge splash in this upcoming Broadway fall season.
Already A Financial Success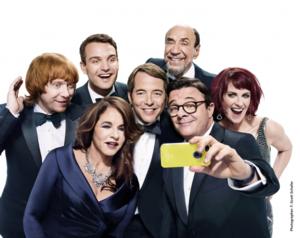 In fact, the box office is already showing a lot of promise. In the first week of only 5 performances, the show grossed a total of $793,046, which is 112.45% of its gross potential. With a top ticket price of $225, the average ticket was a remarkable $146.81.
This is especially impressive given that the play has not yet been reviewed, nor has it appeared on Broadway before. However, Terrence McNally is a tried and true playwright on Broadway, whose experience underscores the quality of this production perhaps even more than the starry cast.
Terrence McNally's Broadway Hits
He has had a total of 21 productions on Broadway, beginning in the year 1963 with his adaptation of The Lady of the Camellias.
The first play he wrote that was produced on Broadway was And Things That Go Bump In the Night in 1965, and some of his other writing credits include the epic musical Ragtime, last season's Mothers and Sons starring Tyne Daly, Master Class also starring Tyne Daly, the book for the stage adaptation of Catch Me If You Can, the book for the musical The Full Monty, the book for Kiss of the Spider Woman, as well as Love! Valour! Compassion!, The Rink, Deuce and many more.
A Backstage Drama
This script promises to be one of McNally's best. The cast list alone implies that the play is top-notch, as such as stellar list of actors responding positively to the material cannot be a coincidence
. According to a statement by McNally, the play was cast in less than two days, as the actors responded with an immediate yes. The only exception was Rupert Grint, as he was on location filming a movie where there was no wireless internet, but he responded positively within four days.
"It's Only A Play" Storyline
Also, the play is reported to have undergone significant revision since its Off-Broadway production in the 1980s. The story involves a backstage drama in a metatheatrical fashion. Matthew Broderick plays a playwright named Peter Austin, and the show takes place on opening night of a production of one of his plays.
As he nervously awaits a response from audience and critics, he interacts with a television star played by Nathan Lane, his early-career producer played by Megan Mullally, the star of the play (Stockard Channing), the young director (Rupert Grint), a scary critic (F. Murray Abraham), and a coat check boy (Micah Stock).