Irreverent Puppet Play "Hand to God" Begins Previews
Hand To God Began Previews On March 14, 2015 At The Booth Theatre, After Several Productions Off-Broadway. This Irreverent Show Has Big No Stars, Only Comedy.
---
An Irreverent Comedy Finally Arrives On Broadway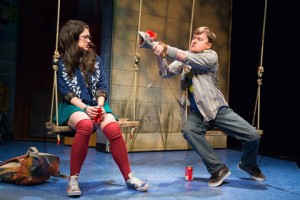 On March 14, 2015, Hand to God began previews at the Booth Theatre. It is scheduled to open on April 7, 2015, and no closing date has been announced at this time.
The play was first produced in 2011 by the Ensemble Studio Theatre, and Off-Broadway bordering on Off-Off-Broadway venue situated on the west side of midtown Manhattan. It received such positive reviews and excited word of mouth that EST extended the run, and then extended the run again.
"Hand To God" Climbs New York Theatre Hierarchy
Subsequently, the play was produced by an unarguably Off-Broadway theatre company, MCC Theatre, at their Lucille Lortel Theatre. Once again, the play received excellent response. Finally, after much effort on the part of the industrious lead producer Kevin McCollum (Rent, Avenue Q), the play has come to Broadway. It is very unusual for a play to travel the ladder of New York theatre hierarchy in this way, especially without swapping out its stars for Hollywood A-listers.
However, this production displayed integrity from the very beginning, and it has come to Broadway with much of its original cast, starring the incredible Steven Boyer in his first Broadway leading part. Furthermore, the playwright Robert Askins, as well as the director Moritz von Stuelpnagel, are both theatre industry diehards whose work has never before been seen on Broadway. They are finally getting their shot in the spotlight.
Turning Vulnerability Into Strength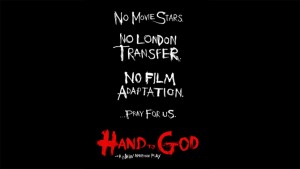 For the show's marketing campaign, McCollum and his fellow producers decided to take a route that others may have considered risky. However, those others would be unlikely to have decided to produce such a risky commercial bet as Hand to God.
Designed by Broadway advertising company AKA, the show's campaign was scrawled in a childish handwriting and said: "No Movie Stars. No London Transfer. No Film Adaptation," and it concluded "…Pray For Us."
Cheeky Comedy And Brilliant Performances
It's true; the play has no movie stars, it has not received rave reviews from an acclaimed run in London (only Off-Broadway in New York), and it is not an adaptation from the big screen. Instead, its only merits are its irreverent brand of comedy and brilliant performances. Playing off the religious-themed humor of the play, the final tagline "Pray for us" asks the audience not to buy tickets, but just to wish them well.
Of course, this ad campaign will hopefully convince theatregoers to buy tickets as well. The difficulty, however, is that the price range for Broadway is often too high for those moved by such outside the box advertising. Nevertheless, the producers took the most clever route available to them, and even if the campaign doesn't make this a sell-out hit, it will surely raise some eyebrows and help spread the word about the show.
A Dark Comedy About A Demonic Puppet
Hand to God is a dark comedy that takes place "nowish" in Texas, somewhere between the country and the city, as it is billed. Steven Boyer, who is in his 30s, plays a young boy named Jason who joins a Christian Puppet Ministry. Soon, to his astonishment, his puppet Tyrone is clearly possessed by the devil, and persuades Jason to do all kinds of naughty things. It is a while, however, before the pastor and other church members realize who is to blame.
In the meantime, others get reprimanded and chaos ensues. This hilarious and off-kilter comedy will be an interesting addition to the Broadway slate this season, and hopefully the critics love it as much as they did the first two times. Though Broadway is a bigger canvas with higher pressure, the performances and comedy should be able to fill up the larger theatre with uproarious laughter.