Idina Menzel Broadway Vehicle "If/Then" Concludes Its Run
If/Then Starring Idina Menzel, Written By Brian Yorkey And Tom Kitt, Closed On March 22, 2015 After Running For Over A Year At The Richard Rodgers Theatre.
---
Idina Menzel Led "If/Then" Broadway Musical For One Year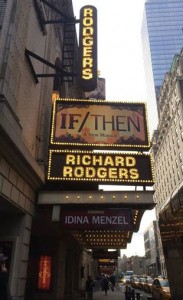 On March 22, 2015, If/Then concluded its run on Broadway at the Richard Rodgers Theatre. Starring Idina Menzel as a woman named Elizabeth, the musical had been running since its first preview on March 5, 2014. It officially opened on March 30, 2014, and closes having played 401 performances on top of 29 preview performances.
The major draw for this musical with book and lyrics by Brian Yorkey and music by Tom Kitt (co-writers of the Pulitzer Prize winning musical Next to Normal) was the star, Idina Menzel. It was therefore fortunate that Menzel stayed for the whole run.
Menzel's Impressive Career
Menzel is very well known among Broadway diehards for her star turns as Maureen in Rent, Elphaba in Wicked, and more recently the Ice Queen in the Disney animated film Frozen. For the latter, she sang the Academy Award-winning song "Let It Go," and when she performed the song live at the awards ceremony, John Travolta memorably flubbed the pronunciation of her name, calling her "Adele Dazeem."
More than an embarrassment, this was actually beneficial for her career, enhancing her renown beyond the community of Broadway fans. It is therefore possible that this occurrence augmented interest in the musical she was starring in at the time, If/Then.
Mixed Reviews And Mixed Box Office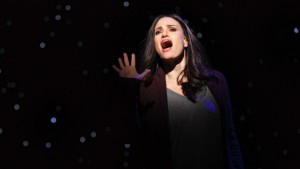 After the show opened in March 2014, it received mixed reviews. To make matters worse, the Tony committee failed to recognize the musical in a significant capacity, snubbing it for the nomination for Best Musical. Therefore, although the show received some early buzz and great box office weeks early on, it is understood that the show closes having failed to recoup its initial investment.
The show was capitalized at $10 million, which is a mid-level amount for a musical of this size. The initial box office was looking promising, partly due to the timing of the Oscar name flub right at the beginning of the run.
Straining To Keep Audiences Interested
From the first week through the week ending May 11, 2014, the musical made over $1 million in its weekly box office a total of 5 times, and the addition 5 weeks had a weekly gross in the $900,000 range. However, starting mid-May, the musical began to bring in weekly grosses in the $800,000 range, by July it was averaging $700,000, and ever since August 2014, the show has been fluctuating in weekly grosses between $500,000 and $600,000.
In early November 2014, the show brought in its record-low weekly gross of $404,308. Therefore, it was difficult for the musical to keep up the audience interest, especially after the mixed reviews and the Tony nomination snub.
Nevertheless, Reuniting Great Artists For A Fulfilling Experience
The creative team of If/Then was a reunion of many great shows from the past. First of all, Brian Yorkey and Tom Kitt are the musical writing duo who won a Pulitzer Prize for Next to Normal, which also won the Tony Award for Best Actress in a Lead Performance in a Musical.
In addition, If/Then was produced by David Stone, and directed by Michael Greif, both of whom served those same roles on Next to Normal. On top of this, David Stone is also the wickedly successful producer of Wicked, which brought Idina Menzel great fame and acclaim. Furthermore, Michael Greif was the director of Rent, which was Menzel's first big breakout role.
Lacking Financial Success
Therefore, though If/Then may not have been financially successful, it was a reunion of great artists who had a very fulfilling experience playing a show for a year with great love and devotion. This musical was written by Brian Yorkey and Tom Kitt and directed by Michael Greif.