If/Then Begins Previews, With Idina Menzel, But Not With Adele Dazeem
If/Then Begins Previews In A Competitive Market, Starring Idina Menzel. Creative Team Takes Advantage Of John Travolta'S Blunder With Adele Dazeem
---
If/Then Hits The Broadway Stage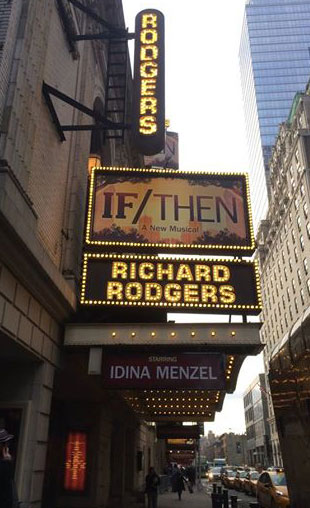 Idina Menzel has returned to the Broadway stage for the first time in almost 10 years. If/Then, a new musical by Tom Kitt and Brian Yorkey (the Pulitzer Prize and Tony Award winning team behind Next to Normal) began previews at the Richard Rodgers Theatre on Wednesday, March 5, 2014.
The musical is directed by Michael Greif, who first cast Idina in the role that became her big break – Maureen in Rent – and it is produced by David Stone, who mounted the production that earned her a 2004 Tony Award for Best Actress in a Musical – for playing Elphaba in Wicked.
If/Then May Get Lost In The Competitive Market
In If/Then, she plays a woman named Elizabeth on the verge of turning 40 who, after a divorce, decides to move to New York City to make a fresh start. The official opening will be on Sunday, March 30, 2014. If/Then is the only new musical this spring season that is not based on pre-existing source material.
With the marketplace competition dominated by recognizable titles such as Rocky, Aladdin, Bullets Over Broadway, and The Bridges of Madison County, If/Then might have a tough time standing out.
Oscars Broadcast Helps Boost National Awareness
However, national awareness of this show and its star was unintentionally heightened during this past Sunday's Academy Awards, better known as the Oscars, broadcast, when John Travolta infamously mispronounced Idina Menzel's name while introducing her performance of the song Let It Go from the Disney animated film Frozen.
Without displaying any sign of recognizing his error, Travolta presented her as "Adele Dazeem." Social media has been in an uproar about this flub ever since, and people who had never even heard of Idina Menzel now know that her name is, in fact, Idina Menzel.
You Know Her Name
Apparently, the producers of If/Then realized the benefits of this tangential publicity, as the show's official Twitter account referred to the Oscars incident by tweeting "You Know Her Name. Idina Menzel stars in If/Then on Broadway March 5th." Furthermore, a less official statement, but one that is still traceable to the production team, made its way across the cybersphere.
In what appeared to be an insert from the Playbill for If/Then, a picture of Idina from the Oscars was accompanied by the text: "At this performance the role of "Elizabeth" will be played by "Adele Dazeem.""
Taking Advantage Of John Travolta's Blunder
A joke bio then followed which cited her as having played "Moritz" in Nert, followed by "Ephraima" in Wicked-ly, and referred her voice performance in the Disney animated musical Farfignugen. (Clearly this was a play on "Maureen" in Rent, "Elphaba" in Wicked, and Frozen.)
Though the note has been confirmed not to have truly been inserted into Playbills in the theatre, it fooled many people who thought it was real. Among others, the image was tweeted by Janet Krupin, an actress in If/Then. As those inside the theatre's doors were spreading the prank, it is possible that the producers were the ones behind it, taking advantage of the added exposure from Travolta's blunder.
Mixed Reviews From Broadway Critics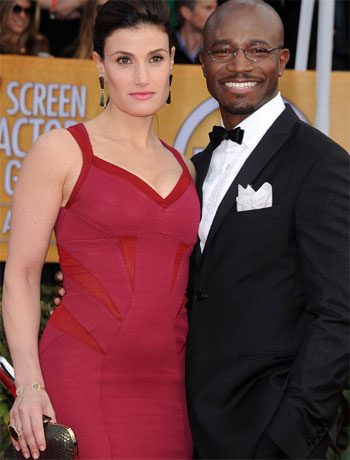 In any case, Idina Menzel already has a huge fan base from her vast success in her career thus far, and hopefully the show's merits will allow it to shine at the box office. The musical had a pre-Broadway engagement at the National Theatre in Washington, D.C. from November 5, 2013 to December 8, 2013, the reviews for which were not wildly positive.
Though critics praised Idina's performance as well as the score, the storyline was reportedly muddled. The musical features a "Sliding Doors" - style plot with two "what-if" scenarios played out side-by-side, as Elizabeth becomes both the characters "Liz" and "Beth." Audiences found this a bit difficult to follow.
"If/Then" Creative Team Refines The Production
Still, fixing kinks is what out-of-town tryouts are for, and hopefully the creative team has had time to refine the plot structure in the intervening months. The story is actually not far from Idina's own experience. She recently separated from her husband of 10 years and Rent co-star Taye Diggs, and at age 42, she is struggling to be a mother to her four year-old son while revitalizing her Broadway career.
After attempting to develop herself as a singer-songwriter in Los Angeles in the years since Wicked, she is now ready to take on this role which is surprisingly close to her heart. A naturally raw and vulnerable performer, audiences can expect that her character will pulsate with the truth of her own experience, not to mention the gravity-defying power of her sensational singing voice – no matter what her name is: Idina, Adele, Elizabeth, Liz, or Beth.