How Will The Juggernaut Harry Potter Fare Against NYC Broadway Shows
Harry Potter And The Cursed Child Parts 1 And 2 Will Go Up Against The Other Kid-Shows On Broadway In 2018, Which Broadway Shows Will Win This Demographic?
---
It Looks Like There is Competition Amongst Kid Shows on Broadway
Harry Potter and the Cursed Child Part 1 and Part 2, will arrive on the Great White Way alongside Disney's new musical Frozen March 2018. Potter will perform at the Lyric Theatre and Frozen will perform at the St. James Theatre. Both of these new Broadway shows will be opening during a time where their particular demographics will already be stretched thin on Broadway.
At which point, popular Broadway shows such as, The Lion King, Aladdin, Anastasia, Charlie and the Chocolate Factory and the newcomers Harry Potter and Frozen will all be in a competitive race to the top, or even to the bottom, as each show attempts to cannibalize the others audience. We are about to find out if Broadway can support six kid shows all at once.
Will Harry Potter and the Cursed Child Manage to Beat the Top Shows on Broadway?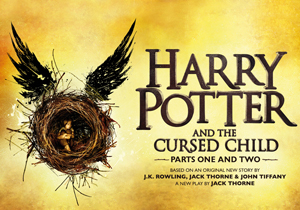 This glut leaves critics wondering which of these shows will ultimately decide to surrender and make a timely exit off the Broadway stage. It surely will not come as a shock when someone quits, since Disney is known to abandon-ship once ticket sales start dropping even a little. The Disney Broadway shows, The Lion King and Aladdin, currently maintain the top slots in the Broadway gross analysis charts week to week, so they are now at the greatest risk.
These two shows are a favorite tourist attraction for visitors and one of the first shows to come to any infrequent NYC visitor's mind. But these visitors can be fickle and will bail for the next-best-thing. Disney claims both these shows are not kid-shows after all, but they have failed to provide any evidence to support this wild claim. After winning 9 Olivier Awards, (The Tony Awards of London) all the other Broadway shows in this genre are now watching out for Harry Potter. The juggernaut play will go up against the top Broadway shows including The Lion King, Aladdin and the upcoming Frozen.
Critics Were Unsure About the Shows Success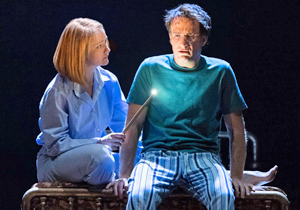 Before breaking a record at the Olivier Awards on April 9th, 2017, some critics were skeptical as to how the London based play would do on Broadway. In 2018, we expect great success for a grown up Harry Potter and his friends. However, despite how great the show is doing in London, this is a play after all and may not work well in the musical-obsessed Broadway.
Harry Potter vs Frozen
Historically, musicals are the most popular shows on Broadway, i.e: The Lion King, Aladdin, The Book of Mormon and, of course Hamilton. The usual audience includes people who like to listen to some catchy tunes rather than sit through a two hour play. Nevertheless, it seems like Harry Potter might take the cake on its opening night. With over 400 million copies of the book series sold worldwide and a total of $6.5 billion made from the franchising movies, it is evident that J.K. Rowling's fictional characters have fans all over the world, varying from young to old.
This diverse range of fans can easily drive sales for Harry Potter on Broadway, unlike any Broadway show ever before. The anticipated arrival of Frozen on Broadway is also generating a lot of hype. Frozen will be playing at the St. James Theatre. Frozen is one of the most successful animated movies of all time. Husband and wife composing duo Robert Lopez (Emmy, Grammy, Oscar and Tony award winner) and Kristen Anderson-Lopez, wrote the music and lyrics for the film, and will also pen the Broadway musical. 2018 promises to be D-Day for the Kid-Show genre on Broadway, prepare your medi-packs for the carnage.