"Honeymoon in Vegas" Begins Previews on Broadway
Honeymoon In Vegas, Starring Tony Danza, Began Previews At The Nederlander Theatre, But It Is Off To A Slow Start At The Box Office Despite Heavy Discounts.
---
A Jason Robert Brown Tuner, Derived From A Movie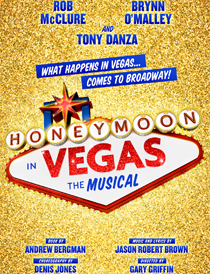 On November 18, 2014, Honeymoon in Vegas began previews at the Nederlander Theatre.
With music and lyrics by Jason Robert Brown (Parade, The Bridges of Madison County), a book by Andrew Bergman (who wrote and directed the film), and based on the 1992 film of the same name starring Nicolas Cage, James Caan, and Sarah Jessica Parker, the Broadway production of Honeymoon in Vegas is directed by Gary Griffin (The Apple Tree, The Color Purple) and choreographed by Denis Jones (Legally Blonde, Dirty Rotten Scoundrels).
Tony Danza Stars In "Honeymoon In Vegas"
The musical premiered at the Paper Mill Playhouse in Millburn, New Jersey in September 2013, where it received positive reviews and ran for just over a month before transferring to Broadway just over a year later.
The lead role of Tommy Korman is played by Tony Danza, and the other principal roles are played by Rob McClure (title role in Chaplin), Brynn O'Malley (Annie, Sunday in the Park with George), Nancy Opel (Rodgers + Hammerstein's Cinderella, Memphis), and Matthew Saldivar (Act One, Peter and the Starcatcher).
A Tale Of Wrought Love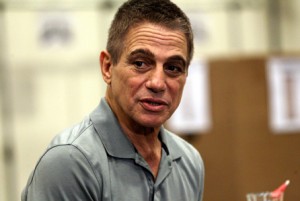 Honeymoon in Vegas follows a young protagonist named Jack Singer (McClure), who is dating a young lady named Betsy (O'Malley), and although he has an established fear of marriage going back to a promise he made to her mother on her deathbed, Betsy has other plans.
Meanwhile, a mafia man named Tommy Korman (Danza) takes notice of Betsy, and finds a strong resemblance between her and his recently passed wife. This makes him a renewed believer in the power of love, so he begins to form a plot of his own.
Happily Ever After
Conveniently, Jack ends up in major debt to Korman during a poker game, and so he demands that in order to erase the debt, he will need to spend a weekend with Jack's beloved Betsy – he agrees when they promise not to sleep together. Korman pulls out all the stops, taking Betsy to his vacation home in Hawaii.
When Jack catches word that Korman plans to marry Betsy back in Vegas, he desperately tries to get there to stop it, only to get waylaid in a series of airports. Finally, however, Betsy escapes from Korman, and she and Jack end up happily ever after, married in a small chapel in Vegas with flying Elvises as their wedding guests.
Off To A Slow Start At The Box Office
You'd think that producers would realize theatregoers are getting tired of straight movie to musical adaptations, choosing a cheesy comedy and staging it with some song and dance. Though that combination can sometimes work, in recent years it has begun to show a serious decline in interest from the ticket-buying public.
In the two weeks of reported box office figures thus far (one with only seven performances and one with the full eight), the musical has only managed to bring in $366,136 and $351,277 respectively. That means that with an entire extra performance the second week, the show still managed to lose $14,859 between the two weeks.
Heavy Discounting Attempting To Lure Holiday Tourists
With a top ticket price of $223.00, the average ticket price stayed fairly constant at around $69.00 each week. Therefore, despite a heavy amount of discounting, the show is still having difficult gaining any traction.
The producers seemed to anticipate a difficult exit out of the gates, because it has allotted an entire eight weeks of previews, with its opening night scheduled for January 15, 2015. Perhaps they know the reviews will not be great, and they are trying to score some holiday tourist ticket-buyers before they can be dissuaded by the critics.