"Home for the Holidays" is a Surefire Flop
Home For The Holidays, Starring Tv Reality Show Winners, Officially Opened To Terrible Reviews And Even Worse Box Office.
---
Singing Competition Winners Sing Holiday Tunes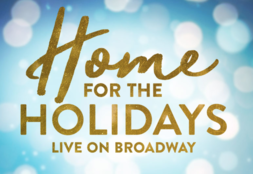 On November 17, 2017, Home for the Holidays had its first preview at the August Wilson Theatre. On November 21, 2017, the show had its opening night.
While most shows take 2 to 4 weeks to warm up in previews before opening themselves up to reviews, this show took the leap after a handful of performances, presumably because there was little work that could have been done to improve the show anyway.
TV's Vocal Victors Take On Broadway
A holiday revue sung by an array of singers who are mostly known for their success on television singing competition shows, Home for the Holidays stars Candice Glover, winner of the 12th season of American Idol, Josh Kaufman, winner of the sixth season of NBC's The Voice, and 23 year-old Bianca Ryan, winner of the first season of NBC's America's Got Talent at the age of 11. Additional performers for Home for the Holidays include Kaitlyn Bristowe, Peter Hollens Danny Aiello, and Evynne Hollens.
All of these performers are making their Broadway debuts with Home for the Holidays, with the exception of Josh Kaufman, who had the good fortune to play Pippin in the recent Diane Paulus revival from October 31, 2014 to January 4, 2015, and Danny Aiello, who appeared in many shows from 1975 to 1987, including The House of Blue Leaves, Hurlyburly, The Floating Light Bulb, and Lamppost Reunion.
Unanimous Disdain For This Attempt At Holiday Cheer

In her New York Times review of Home for the Holidays, Elisabeth Vicentelli began with a call to bring back Donny and Marie, whose 2010 holiday special Broadway Christmas, she said, at least had an unexpected sense of humor and kitsch.
However, this present holiday show she called a "limp revue," bemoaning how our culture loves winners, and thus allowed the singing contest winners to headline a show on Broadway.
Critical Backlash
Frank Scheck from the Hollywood Reporter agreed that the show leaves much to be desired, going so far as to state that this is an excellent way to throw yourself further into seasonal depression. He states that the cast is tailor made for the internet and the TV reality competition generation, but clearly he does not believe they are a good fit for the honorable platform of Broadway.
Adam Feldman of Time Out New York could not contain himself in his criticism of this show, beginning with a pun about the warning that the show contain "haze effects," remarking that indeed the show's concept is hazy. He calls the show "tacky" and compares it to "the yuletide equivalent of a Halloween costume store." He also calls the cast "comically motley," and jabs at Oscar-nominated Danny Aiello for his likewise "hazy" recollection of a story from his childhood about hearing, or perhaps dreaming about, Christmas bells.
Comically Poor Box Office In First Week
If the cast is comically motley, then the box office is comically horrific. In fact, it is almost certain that Home for the Holidays broke some kind of record for its abysmal box office this past week. Over the course of its 5 performances in its first partial week of previews, Home for the Holidays brought in a weekly gross of just $51,300, which represents only 5.51% of its gross potential. With a top ticket price of $396.50, the average paid admission was just $14.71.
Record Low Ticket Sales
This is barely the cost of a movie ticket, not to mention a show on Broadway. It is very likely that in addition to extreme discounting, there was a fair amount of papering this week, which refers to the practice of giving out free tickets in order to fill seats and make it look less pathetic for the cast and the audience who did end up paying for their tickets. At this rate, Home for the Holidays may have a hard time even making it through to the holidays, which are only a month away. The show is presently scheduled to close on December 30, 2017.
Discount Broadway Tickets
---
---