"Home for the Holidays" Closes After Dismal Run
Home For The Holidays Concluded Its Run On Its Scheduled Closing Date, Despite Extraordinarily Poor Box Office Performance Throughout The Engagement.
---
Holiday Revue Somehow Survives To Scheduled Closing Date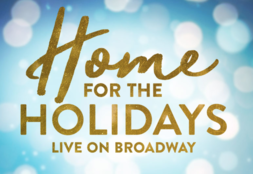 On November 17, 2017, Home for the Holidays began previews for its ill-fated Broadway run, which had its officially opening night on November 21, 2017. At the time, it was scheduled to close on December 30, 2017, and miraculously, this will indeed be the show's closing date.
While it was unambitious to aim for a very limited engagement of just 53 performances, with the most dire grosses Broadway has seen in recent history, it looked questionable whether the show would even survive that far.
Singing Competition Winners Shine
Home for the Holidays, which has musical and creative direction by Jonathan Tessero, is a holiday revue starring a selection of television singing competition winners from various networks. These singers include Bianca Ryan, who won the first season of NBC's America's Got Talent 12 years ago when she was 11 years old, Candice Glover, who won the 12th season of ABC's American Idol, and Josh Kaufman, who won the sixth season of NBC's The Voice.
In addition, these lead performers were joined by Peter Hollens, Kaitlyn Bristowe, Evynne Hollens, and Danny Aiello. Josh Kaufman was previously seen on Broadway as the lead part of Pippin in the recent Diane Paulus revival in 2014 to 2015, and Danny Aiello is a Broadway veteran whose career mostly spanned 1975 to 1987. All the other performers made their Broadway debuts with Home for the Holidays.
The Lowest Broadway Grosses In Recent History

Even though this holiday show was timed to coincide with the generally lucrative Christmas season on Broadway, Home for the Holidays proved to be an incredible box office failure.
Over the course of all reported box office figures thus far, which includes all but the final week, the average percentage reached of gross potential was remarkably low at 4.87%. For comparison, the next lowest this past week was Junk, which brought in just 31.7% of its gross potential.
"Home For The Holidays" Misses The Mark
Though still very low, that is significantly higher than the miniscule percentage earned by Home for the Holidays. The highest weekly gross from the run thus far was earned in the week ending December 10, 2017, when the show brought in $91,678, or 6.19% of its gross potential. The worst week was the first full performance week, the week ending November 26, 2017, which earned just $48,496, or 3.27% of its gross potential.
In the last reported week of box office figures, which included Christmas Eve itself, the show brought in a weekly gross of $77,787, or 5.25% of its gross potential. With a top ticket price of $299, the average paid admission was $23.98, and the audience was filled up to an average capacity of 22.8%.
Hemorrhaging Money
Therefore, even with such intensive discounting, the show did not manage to fill up even a quarter of its audience capacity. Even though the show must have had significantly lower running costs than the average Broadway show, with a small ensemble of effectively non-name performers, it is unequivocal that the show has been hemorrhaging money.
With such low ticket sales, perhaps all involved would have been better off at their actual homes for the holidays, rather than playing to a near empty house at the August Wilson Theatre. The next show scheduled to enter the Wilson Theatre is Tina Fey's Mean Girls musical, which will begin previews on March 12, 2018 ahead of an opening night on April 8, 2018. That show should reap in significantly higher grosses than its dismally performing predecessor.