"Holler if Ya Hear Me" Opens on Broadway
The Tupac Shakur Inspired Musical Holler If Ya Hear Me Opened On June 19, 2014 To Fairly Negative Reviews And Low Box Office Figures.
---
"Holler If Ya Hear Me" Negative Reviews Will Not Help Low Box Office Figures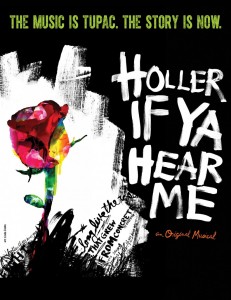 The Tupac Shakur inspired musical Holler if Ya Hear Me had its official opening on June 19, 2014 at the Palace Theatre, after running for 17 preview performances.
In the weeks approaching the opening night, upon which the critical response would be publicized to the masses, ticket sales were abominably low. With an average weekly ticket price ranging between $24.10 and $32.84, the show only managed to bring in at the most $170,652 a week in its first three weeks of running.
Dire Situation On Broadway
These numbers were so dire, in fact, that one of the producers was quoted as saying that the musical would close just over a week after opening if the reviews were poor. The reviews are in, and they are well below positive.
However, the production has made no official announcement of closing in the timeframe that they had supposedly specified. Still, it is doubtful if the show will be able to stay afloat for much longer with these low numbers, coupled with the negative reviews.
Veteran Director Kenny Leon Did Not Save This Show
Holler if Ya Hear Me is written by Todd Kreidler and directed by Kenny Leon, with lyrics by Tupac Shakur, and the music arranged and orchestrated by Daryl Waters. Leon is also behind the acclaimed and Tony Award winning revival of A Raisin in the Sun that just concluded performances this season.
However, Holler if Ya Hear Me was much less well received. Charles Isherwood of The New York Times gave it a fairly negative review, criticizing the show for being relentless and heavy-handed in driving home its tragic themes.
Praised The Performances And Music But Less In Favor Of The Narrative
The Hollywood Reporter called the show well-intentioned but toothless, and Time Out New York, NBC, and Associated Press were all on the fence but certainly not singing the praises of this tuner. In general, critics were appreciative of the performances, especially the star Saul Williams making his Broadway debut.
They also enjoyed the beats and the music, but reviewers were less in favor of the uneven narrative storytelling and the ramshackle method of re-appropriating Tupac's songs for the stage.
A Summer Hip-Hop Musical Was A Long Shot All Along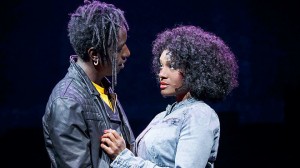 The show was already a long-shot for success on Broadway for a number of reasons, and these reviews will certainly not help attract audiences to the struggling production. For one, it opened in the summer after the Tony Awards, when no other shows are opening.
There is a reason for this, and it is because most summer tourists tend to choose a long-running musical, or a recent Tony Award winning hit, rather than a new show they have barely heard about.
"Holler If Ya Hear Me" Struggles To Find The Right Demographic
Furthermore, its demographic is a tough one for Broadway. According to Michael Riedel of The New York Post, a veteran producer was quoted as saying that the show would fail because the average theatre ticket buyers are middle-aged women, who are generally not familiar with the music of Tupac.
In general, he said, it would be tough for a rap musical to make it on Broadway, especially when there is not a Hollywood star leading the cast. This is unfortunate, as hip-hop has been mainstream for quite a while, and it is a shame that Broadway has not reached the point where it can be representative of the nation as a whole.
Tough Sell Bridging Hip-Hop And Broadway
Perhaps this is because Broadway prices out many of the individuals who would have enjoyed a show about Tupac, or maybe it is because the attempt to bridge these two art forms was misguided in the first place. In any case, the show will most likely not be open for much longer, even if it is still hanging on a week after opening.