"Holler If Ya Hear Me" Closes Early On Broadway
Holler If Ya Hear Me, Directed By Kenny Leon, The New Musical Inspired By The Music Of Tupac Shakur, Has Closed On Broadway After Just One Month.
---
Ambitious To Begin With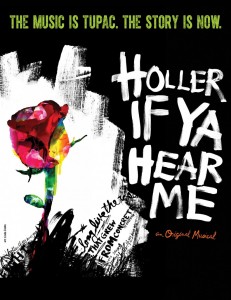 Holler If Ya Hear Me, the Tupac Shakur inspired musical that has been running on Broadway since June 2, 2014, closes today on Broadway – July 20, 2014 – after just 17 preview performances and 38 regular performances.
In the first place, the producers were taking a gamble because they elected to open a new musical at the start of the summer season, just after the excitement had died down after the Tony Awards. This was certainly not the exception to prove the rule that it is a better bet to open at the height of the fall or spring seasons.
"Holler If Ya Hear Me" Missed The Mark With Broadway Demographic
Second of all, the subject matter of the musical and the hip-hop genre are unusual for Broadway. Though Tupac Shakur is a huge household name, his audience doesn't exactly correspond with the usual Broadway demographic.
It is admirable for producers to aim to reinvent the Broadway demographic, but it doesn't just happen automatically. Unfortunately, despite noble attempts at marketing and promotional efforts, this production did not crack the code for expanding the Broadway audience.
A Financial Failure
It is very possible that, given more time to reach its audience, the show could have sustained itself financially and reached a plateau where it was inching towards profitability.
However, the economics of Broadway dictate a very high floor for running costs, and in fact the theatre landlord can invoke a stop clause to force any production out of its house that is not making a certain minimum gross each week. In the first six weeks of its run, Holler If Ya Hear Me did not gross over $163,586 in any week.
Producer Eric L. Gold Made A Rookie Mistake
That number was only 18.32% of the show's potential gross. With a comparatively modest budget of $8 million, the show would still require a much higher gross in order to remain open.
The producers were forced to discount significantly, and therefore the average ticket price was generally around $30 to $35, which is exceedingly low for Broadway. The lead producer Eric L. Gold admitted in Variety that he made a "rookie mistake" in misunderstanding the capital required to sustain a Broadway show.
Kenny Leon's Latest Show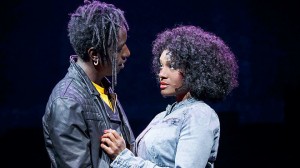 Holler If Ya Hear Me is the newest show directed by Kenny Leon, the exceedingly prolific director of African-American content on Broadway.
However, Mr. Leon has just as many hits as misses, with his repertoire including the vastly successful 2014 revival of A Raisin in the Sun and 2010's Fences both starring Denzel Washington, as well as the flops Stick Fly and his 2004 revival of A Raisin in the Sun.
Generally Negative Critic Reviews
Holler If Ya Hear Me has a book by Todd Kreidler, who has worked with Leon before in an assistant directing capacity, and music orchestrated from Tupac Shakur's repertoire.
The musical's cast included Saul Williams making his Broadway debut, as well as New York theatre regular Tonya Pinkins. The show opened on June 19, 2014 to fairly negative reviews, which did not sustain the already floundering musical. Though closure was not immediately announced, the general critical consensus was that this musical would not last long.