Hello, Bernadette! - Peters is the New "Dolly"
Bernadette Peters Is In The Lead Part Of Dolly In The Well Received Revival Of Hello, Dolly!, Replacing Bette Midler, With Her New Co-Stars Victor Garber, Charlie Stemp, And Molly Griggs.
---
Bette Midler Departs, Bernadette Peters Takes The Stage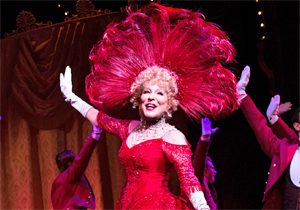 On January 14, 2018, Bette Midler finally played her last performance as Dolly Gallagher Levi in the currently running, phenomenally successful revival of Hello, Dolly!, with a book by Michael Stewart, music and lyrics by Jerry Herman, directed by Jerry Zaks, and choreographed by Warren Carlyle.
More notably demonstrated than with any other show in recent memory, Bette Midler had a clear box office pull for this production.
Fans Clamor To Theatre For Midler
Because Midler took occasional vacations throughout her year in the part, to be replaced for temporary stints by Donna Murphy, it was clearly illustrated that the audience was clamoring to the theatre, not necessarily to see the revival of this 1964 musical, but rather because of their undying love for Bette Midler.
For instance, when Midler took a two-week hiatus in mid-July 2017, the box office dropped from $2,305,481 over her eight performances before departing, to $936,603 in Murphy's first of to weeks playing all eight performances, and then to just $722,574 in Murphy's second of two weeks playing the full week.
Bette Midler Goes Out With A Bang
Then, when Midler returned the following week, the numbers jumped back up to $2,232,162, clearly demonstrating the reason for the volatile shifts. To culminate her glorious year in this part, Bette Midler went out with a bang, bringing in stupendous box office in her final week.
In the week ending January 14, 2018, Hello, Dolly! brought in $2,436,208 over seven performances, representing 148.46% of gross potential. This is the highest percentage reached of gross potential from the entire run. As for the eighth performance, Midler and the producers decided to make that a benefit performance for the Actors' Fund, and as such, its box office gross was not counted among the official tally.
Tickets For Benefit Performance A Big Success
Still, it was reported that that one performance brought in $598,203 alone, bringing the total weekly gross of all eight performances to $3,034,411, which is by far the highest weekly gross of the run to date. With tickets for the benefit performance going for as much as $10,000, it is unsurprising that the boost was so immense.
Bernadette Peters and Victor Garber Began January 20th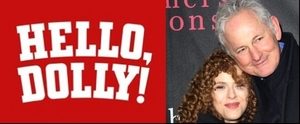 With such an incredible run under her belt, Bette Midler stepped away following the January 14, 2018 performance, and a brief hiatus was necessary for the theatre to ready itself for the next big star.
After less than a week's gap, Bernadette Peters (Follies, A Little Night Music, Gypsy, Annie Get Your Gun) commenced performances as Dolly Gallagher Levi starting January 20, 2018, playing just two performances in that first week of reported box office figures.
Big Changes Ahead
Starring alongside her, in the part of Horace Vandergelder formerly played by David Hyde Pierce, is Victor Garber, whose many Broadway credits include Present Laughter, Art, and Arcadia. Furthermore, Beanie Feldstein (Lady Bird) completed her run as Minnie Fay, to be replaced by the current performer Molly Griggs, making her Broadway debut, and furthermore Taylor Trensch completed his run as Barnaby Tucker to enter the lead part of Dear Evan Hansen, to be replaced by Charlie Stemp, also making his Broadway debut.
As there were only two performances this past week, it is unclear how well this new cast will fare in terms of attracting such phenomenal box office, but there will inevitably be somewhat of a decrease in interest from Midler's hyperbolic magnetism.
Will the Box Office Return to Bette Midler Levels
Over the course of Bernadette's two performances this past week, the show brought in $372,200, which represents 100.84% of gross potential. Though not bad, that is a steep drop from Midler's final week at 148.46% of gross potential.
The producer Scott Rudin and his team opted to re-introduce the production with a new set of reviews for the replacement cast; as such, these reviews will come out after the new official opening night of February 22, 2018. With a month to get it right, the reviews will likely be laudatory, but time will tell whether the box office will ever return to its Bette Midler levels.