"Hedwig and the Angry Inch" Opens on Broadway
Hedwig And The Angry Inch, Opens On Broadway To Stellar Reviews. Neil Patrick Harris Receives Resounding Praise For His Outstanding Performance.
---
16 Years In The Making
Hedwig and the Angry Inch first hit the Off-Broadway stage in 1998, and it has taken 16 years for this gender-bending rock musical to find the Great White Way.
In this time, its book-writer and original star John Cameron Mitchell, though forever ageless in the mind of his fans, has sadly aged beyond the prime energy levels required to sustain this magnificently vibrant performance, which requires the lead to carry the entire show on his shoulders.
Neil Patrick Harris Receives Stupendous Reviews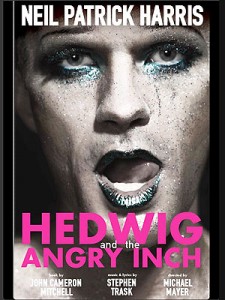 Fortunately, however, Neil Patrick Harris has stepped up to the post at the Belasco Theatre, and according to the unanimous response from critics, he does so to stupendous success. Directed by Michael Mayer and choreographed by Spencer Liff, Hedwig and the Angry Inch has music and lyrics by Stephen Trask, along with the book by John Cameron Mitchell.
With its style rooted in the androgynous glam rock of the 1970s, Hedwig and the Angry Inch is the story of a struggling East German rock star named Hansel during the time of the fall of the Berlin Wall. Hedwig is homosexual turned accidental transsexual, so to speak, as his tragic story originates with his desire to marry another man, and in so doing escape the communist East for the capitalist West.
The Story Of "Hedwig And The Angry Inch"
However, his sex change operation gets botched, and instead of a makeshift vagina, Hansel a.k.a. Hedwig ends up with a one-inch mound of flesh. After Hedwig moves to Kansas with her new husband, he leaves her for a man and she forms a rock band called Hedwig and the Angry Inch.
The story, divulged by means of a spectacular rock concert, continues as Hedwig tells of her encounter with a lonely Christian teenager, who becomes a famous rock star named Tommy Gnosis and leaves her in the wake of his success. For purposes of Tony consideration, this musical is considered a revival, although this is its first time on Broadway. (The same thing happened with this season's production of Violet.)
Earns Eight Tony Award Nominations
This is because many productions have been done of the show since its Off-Broadway premiere. Still, it has earned a remarkable eight Tony Award nominations, including those for Best Revival of a Musical and Best Actor in a Musical. (Coincidentally, Harris has hosted the Tony Awards four times.)
In addition, a well-known film version was released in 2001, immortalizing John Cameron Mitchell as the anti-hero he created. Though that film may not have been a financial success, having grossed just over half of its $6 million budget, it is widely regarded as a beautiful and unique masterpiece of the screen.
Harris's Magnificent Success
With this history, many doubted if Neil Patrick Harris could hold a candle to his fellow three named predecessor. Fortunately, with the opening of the Broadway production on April 22, 2014, the results are in, and Harris is a winner.
Neil Patrick Harris has appeared on Broadway three times prior to this: as Hal in Proof in 2002, as the Emcee in Cabaret in 2003, and as Lee Harvey Oswald in the 2004 production of Assassins. However, he is best known for his television roles, specifically for starring in How I Met Your Mother as well as Doogie Howser, M.D.
Open-Ended Run On Broadway

If the magnificent reviews and the eager cult following were not enough to make this a sell-out hit, then Harris' star power will convince the less daring theatregoers to give this risqué piece a try. Fortunately, the box office is holding up to its potential.
Bringing in over $700,000 per week, Hedwig has maintained sell-out capacity as well as an average ticket price of well over $100. This may be no The Book of Mormon, but this small-scale edgy rock show seems to have found its audience. Hedwig and the Angry Inch is presently scheduled to have an open-ended run.
Discount Broadway Tickets
---
---