Harry Potter and the Cursed Child Actor Roles Have Been Cast
Harry Potter And The Cursed Child, Parts One And Two, Is Coming To Broadway Next Spring With 7 Members Of The West End Cast And A Large Ensemble.
---
Harry, Ron, And Hermione - All Grown Up And On Stage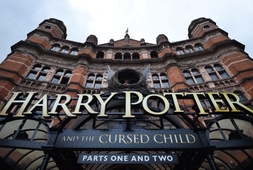 Harry Potter and the Cursed Child is a new theatrical production of the Harry Potter saga, with a script by Jack Thorne, based on an original story by Jack Thorne, J.K. Rowling, and John Tiffany, which involves the beloved principal characters of Harry, Ron, and Hermione all grown up with families of their own.
J.K. Rowling, the author of the wildly successful Harry Potter book series, collaborated on this project with the playwright Jack Thorne, whose plays include The Solid Life of Sugar Water (National Theatre), Let the Right One In (West End, St. Ann's Warehouse), The Physicists (Donmar Warehouse), and Hope (Royal Court Theatre), in addition to work in film and television.
Collaborative Efforts Create Success
In addition to Rowling and Thorne, the story for Harry Potter and the Cursed Child was created in collaboration with the director John Tiffany, whose previous directorial endeavors include the 2013 Broadway revival of The Glass Menagerie, the 2013 Broadway revival of Macbeth, and the 2012 Tony Award winning Best Musical Once.
Unlike many new shows that come from source material widely known from films, Harry Potter and the Cursed Child is not a musical – rather, it is not one play, but two plays. As such, it is referred to as Harry Potter and the Cursed Child Parts One and Two. The two plays have the same cast, and each part has a running time of more than 2 and a half hours, including an intermission. Therefore, audience members can choose to see both in one day, or the two plays on separate days. The production does recommend seeing both parts in order to get the full story.
Seven Actors From The West End Production Come To Broadway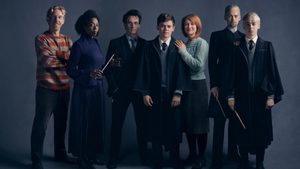 While tickets to the West End production are currently on sale until July 22, 2018, with the possibility of extending, the Broadway production of Harry Potter and the Cursed Child Parts One and Two is set to begin previews in March 2018, ahead of an opening night on April 22, 2018.
As such, the West End production will continue on with a replacement cast, while the original 7 stars from London come to Broadway. The role of Harry Potter, now as an adult, is played by Jamie Parker, who won the Olivier Award for Best Actor for this part, and who has previously appeared on Broadway once before in the 2006 production of The History Boys, and whose West End credits include Guys and Dolls and A Little Night Music.
Seasoned Actors Make Broadway Debut
The other six principal actors from the West End will be making their Broadway debuts. The role of Hermione as a grown-up is played by Noma Dumezweni, who won the Olivier for Best Actress in a Supporting Role for this part, and whose credits also include Linda at the Royal Court Theatre and her Olivier Award-winning turn in the 2006 West End production of A Raisin in the Sun.
The role of Ron as an adult is played by Paul Thornley, whose credits include London Road at the National Theatre and the film, and A Chorus of Disapproval in the West End. In addition, the role of Ginny Potter, Harry's wife, is played by Poppy Miller (The Last Days of Judas Iscariot at the Almeida Theatre), and their son, Albus, is played by Sam Clemmett. Furthermore, the adult Draco Malfoy is played by Alex Price (television credits include Doctor Who and Being Human), and his son Scorpius Malfoy is played by Anthony Boyle, who won the Olivier Award for Best Actor in a Supporting Role for this part.
A Large Broadway Ensemble Of 28 People
In addition to these seven British actors, the Broadway cast will be rounded out by an ensemble of 28 Americans. These actors are David Abeles (Once), Brian Abraham, Shirine Babb (Macbeth), Jess Barbagallo, Stephen Bradbury (A Few Good Men), Lauren Nicole Cipoletti, Joshua De Jesus, Jessie Fisher (Once), Richard Gallagher (1984), Susan Heyward (The Trip to Bountiful), Geraldine Hughes (Jerusalem), Edward James Hyland (Arcadia), Byron Jennings (Arcadia), Katie Kreisler (The House of Blue Leaves), Joey LaBrasca, Andrew Long (Curious Incident), Kathryn Meisle (The Elephant Man), Angela Reed, Dave Register, Adeola Role (Eclipsed), James Romney, Malika Samuel (The Music Man), Alanna Saunders, David St. Louis (Side Show), Stuart Ward, Madeline Weinstein (The Real Thing), Alex Weisman, and Benjamin Wheelwright (Curious Incident).
Reuniting Fan Favorites
The Broadway production is produced by Sonia Friedman Productions, who is bringing back several actors from her past shows including Jerusalem, Arcadia, 1984, and The House of Blue Leaves, along with Colin Callender. In addition, the director John Tiffany is reuniting with two of his actors from Once: David Abeles and Jessie Fisher.