Hands on a Hardbody Documentary Gets New Release
---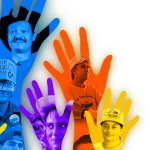 Fans of the new Broadway musical
Hands on a Hardbody
will be pleased to learn that the 1997 documentary of the same name is now getting released on DVD and in movie theaters. The documentary directed by S.R. Bindler, which hasn't been available for over 10 years, has been digitally restored and re-mastered.
Hands on a Hardbody
offers a candid look at a 1995 competition that offered 24 Texans in a small town the chance to win a pickup truck. The contestants were challenged to keep at least one hand on the truck as long as possible, with the last person still touching the truck winning it. The competition lasted 77 hours. New York City film-goers can catch
Hands on a Hardbody
at the IFC Center on March 20, before it continues on a screening tour that will take it to locations in Texas, California, and Washington. And after seeing the documentary, you can buy a ticket to see the musical version -- written by Trey Anastasio, Amanda Green, and Doug Wright -- at the Brooks Atkinson Theatre on Broadway!