"Hamilton" and "Front Page" Riding High at the Box Office
The Front Page And Hamilton Both Show Strong Sales. Hamilton Made The Best Gross Yet In An 8 Performance Week.
---
"Hamilton" Surged Forward In Ticket Sales
This past week, the week ending October 30, 2016, Hamilton demonstrated that its box office power is not going to diminish anytime soon. Over the eight-performance week, the show brought in $2,215,641, which represents 114.02% of its gross potential. With a top ticket price of $549.00, the average paid admission was $206.03, and the audience was filled up to 101.8%.
In comparison to last week, the show brought in $222,553 more in ticket sales. One exception is the week ending in September 25, 2016, which brought in $2,419,442, but that was over nine performances, so the percentage of gross potential was lower. This is therefore the highest gross per performance in any week since Lin-Manuel Miranda left the show in July.
Strong Continued Interested In "Hamilton"
In mid-June, the show brought in its all-time high percentage of gross potential at 151.93% of gross potential, with a weekly gross of $2,028,208. However, at that time, Hamilton still had a top ticket price of $475.00, and it has since been raised to $549.00.
Therefore, in any week of eight performances (as opposed to nine), this past week marked the highest gross yet for Hamilton, at $2,215,641. All of these signs point to a healthy continued interest in Hamilton, sure to make the ticket a tough one for many more months, if not years.
"The Front Page" Continues To Perform Well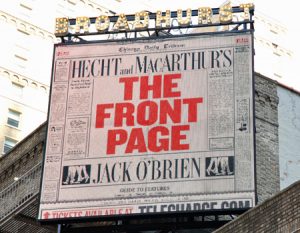 In the week ending October 30, 2016, The Front Page, a newly opened play this season, continues to show a strong performance at the box office. It may well turn out to be the best-performing box office straight play of the fall. This past week, the gross was $1,242,292.
Though no Hamilton, this is a fine showing for a play with an ensemble cast. That gross was an increase of $137,402 from the previous week, with a percentage reached of gross potential of 92.23%.
Positive Reviews And Effective Advertising
Since its opening on October 20, 2016, the show took a little dip and then surged forward this past week. With the positive array of reviews, along with additional advertising and press coverage, The Front Page spurred word of mouth, mostly carried along by its star cast including John Goodman (the film Bye, Bye Birdy), Nathan Lane (The Producers), Jefferson Mays (A Gentleman's Guide to Love and Murder), Sherie Rene Scott, John Slattery ("Mad Men"), and Holland Taylor (Ann).
The audience this past week was filled up to 100.6%, and the average paid admission was $131.20. The chances of this show recouping are somewhat strong, although the producer Scott Rudin is spending a lot on advertising and with such a cast, running costs must also be very high.
Charms Audiences For Generations
In this November season, the weather is crisp and the Broadway theatres are enticing, and this revival will delight and charm those looking for nostalgia, fast-paced storytelling, as well as great performances. A newspaper tale about a reporter who ends up getting a little too involved in the news about town, The Front Page has charmed multiple generations of Broadway and film audiences.