"Groundhog Day" Opens to Rave Reviews On Broadway
Groundhog Day Has Opened To Positive Reviews At The August Wilson Theatre On Broadway In A New Musical Adaptation Of The 1993 Film That Starred Bill Murray But There's Still Room For Improvement
---
Andy Karl Stars as Phil Connors the Weatherman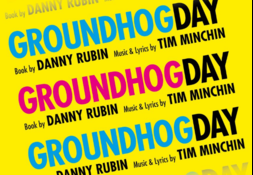 Groundhog Day is now up and running at the August Wilson Theatre, where it has been in performances since the first preview on March 16, 2017. Based on the 1993 comedy film of the same name starring Bill Murray, Groundhog Day is a musical adaptation with a book by Danny Rubin, and music and lyrics by Tim Minchin (Matilda the Musical). Following a wildly successful debut at the Old Vic Theatre in London in the summer of 2016, plans were made to bring the show to Broadway. It has just been announced that Groundhog Day has been nominated for seven Tony Awards, the ceremony for which will take place on June 11, 2017.
These are the nominations for Best Musical, Best Lead Actor in Musical for Andy Karl, Best Director of a Musical for Matthew Warchus, Best Book of a Musical for Danny Rubin, Best Original Score for Tim Minchin, Best Choreography for Peter Darling and Ellen Kane, and Best Scenic Design of a Musical for Rob Howell. These nominations are a major coup for this musical, as many new musicals did not receive the honor of being nominated for Best Musical, including War Paint, Anastasia, Amélie, In Transit, and Charlie and the Chocolate Factory. In any case, the positive reviews have certainly instilled confidence in Tony voters and audience members alike.
Positive Reviews Pour In for "Groundhog Day"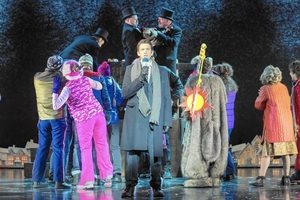 Upon the show's opening night, the majority of critics were enthusiastic about the production. Ben Brantley of the New York Times titled his review "A Star is Born (and Born and Born)" referring to the repetition of the same day over and over again in the plot of the musical. He calls the musical "dizzyingly witty" and compliments Andy Karl for his success with the art of repetition in an outrageously inventive fashion. Robert Kahn from NBC New York was also a fan, complimenting the show's magic to that of Matilda, which also has a score by Tim Minchin.
He called the show textured, twisted, and ticklish. Chris Jones from the Chicago Tribune was also very excited by the show, calling Andy Karl handsome and hugely talented and remarking on the lively ensemble. Chris Nashawaty from Entertainment Weekly found the show to be deceptively deep and philosophical, comparing it in terms of weight to A Christmas Carol for the modern generation. Still, David Cote from Time Out New York was less positive in his response, citing how slow the show crept along, while admitting there were some likable and inspired elements.
Room for Improvement at the Broadway Box Office
Despite the recognizable title and positive reviews, Groundhog Day is by no means a sell-out at the box office at this stage. This past week, the week ending April 30, 2017, the show brought in a weekly gross of $755,009, which represents 57.51% of its gross potential. With a top ticket price of $375.00, the average paid admission was $95.97, and the audience was filled up to 80.1% of capacity. This past week was also the highest weekly gross to date, showing an increase of $106,936 from the previous week.
In such a densely packed season, with countless new and revived musicals and plays to choose from, it is not a huge surprise that Groundhog Day is having trouble standing out. After all, Andy Karl is by no means a household name, and the movie may be beloved, but the allure of a movie to musical adaptation is old hat to theatergoers by now. Still, the positive reviews and recent announcement of the Tony nominations may help spur buzz for the production, which is presently in an open-ended run until further notice.
Discount Broadway Tickets
---
---