Glee's Jane Lynch To Join Annie on Broadway
Popular Comedic Actress Jane Lynch Makes Her Broadway Debut And Joins The Cast Of Annie As Miss Hannigan For Just Eight Weeks This Summer
---
Jane Lynch Makes Her Broadway Debut As Miss Hannigan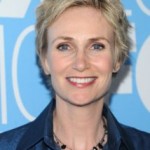 Already a respected comic actress and improv performer due to her extensive work in films like Christopher Guest's Best in Show, and now a well-known TV star thanks to her role on Glee, Jane Lynch is soon to add Broadway to her resume.
Later this spring, Lynch will make her Broadway debut in the well-received Broadway revival of the musical Annie, now playing at the Palace Theatre. Jane Lynch will be replacing Tony winner Katie Finneran in the role of Miss Hannigan, the tyrannical orphanage matron who serves as little orphan Annie's nemesis in the show.
Joining The Cast For Just Eight Weeks
"Some may say I know a thing or two about playing intimidating authority figures," stated Lynch. "So I am excited and honored to be making my Broadway debut with the wonderful Annie company." Jane Lynch is scheduled to be in Annie for just eight weeks, from May 16 through July 24.