"Gigi" Revival Opens on Broadway
Gigi, starring Vanessa Hudgens and Victoria Clark, Opened On April 8, 2015 At The Neil Simon Theatre. It Received Mix Reviews, Only One Tony Nod For Best Featured Actress.
---
Vanessa Hudgens And Victoria Clark Star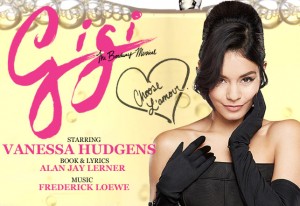 On April 8, 2015, Gigi opened at the Neil Simon Theatre. It had been running in previews since March 19, 2015. This musical is scheduled for an open-ended run at the moment. The show is produced by Jenna Segal, a first-time Broadway lead producer who has a background in television, and who has long loved this show and wanted to bring it to a new generation of audiences.
In the lead role she found Vanessa Hudgens, the Disney star who has since ventured into more irreverent films such as Harmony Korine's Spring Breakers, but here makes one of her lifelong dreams come true by appearing for the first time on Broadway.
Frederick Loewe Produced Score For "Gigi"
The original Broadway production premiered in 1973, based on a novella of the same name by Colette, as well as a musical film that followed in 1958. Though the film was a hit, the original Broadway production had a disappointingly short run, although it walked away with the Tony Award for Best Score at that time.
The musical has book and lyrics by Alan Jay Lerner, and a score by Frederick Loewe. Vanessa Hudgens was not recognized by the Tony Award committee for her performance, although her much more experienced co-star Victoria Clark was nominated for the award for Best Actress in a Featured Role in a Musical. This is the only nomination the production received.
Mixed Response From Critics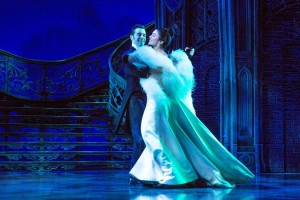 When the reviews hit the press, some were in love with the revival, whereas just as many found it less than appetizing. Charles Isherwood from The New York Times was on the fence, did not approve of the way this revival, in an adaptation by Heidi Thomas, was scrubbed so squeaky clean, removing it of any naughtiness as well as intrigue.
Likewise, Adam Feldman in Time Out New York did not either love or hate the show, agrees that it is inoffensive to a fault, as it refuses to address head on the complicated idea of a woman grooming herself to be a courtesan.
Hudgens Praised For Her Stellar Performance
David Rooney at the Hollywood Reporter was less generous, finding the musical deficient of charm although acknowledging it was pretty at best. David Finkle of the Huffington Post was equally unmoved by the revival, found the musical to be a cheap rendition of the successful film, remarking that cheap was used figuratively as a great deal of money was spent on the production, although to ill effect.
On the other hand, Robert Kahn of NBC New York was happy with the show, praising Vanessa Hudgens' performance for her verve and vivacity, as well as Victoria Clark's glorious performance as her grandmother.
Box Office Struggling
With only one Tony nomination and mixed reviews, this show is not being pushed upwards at the box office. Though it began previews with signs that it might start to improve its weekly grosses as word of mouth spread, that word of mouth was too negative for it to be any help.
In the last reported week of box office figures, the week ending May 10, 2015, the show brought in $434,201, which represents 32.38% of its box office potential. Furthermore, that is a decrease of $116,315 from the week before. In fact, it hasn't earned such a low weekly gross at all in its first, with the exception of the first week when it only played four performances.
Lost In The Buzz
With so much buzz going around for all the shows that were recognized by the Tony committee, it is only natural that Gigi would get lost in the fray. Once the finite pool of Vanessa Hudgens fans dries up, this show may not be around for much longer.