"Fun Home" Begins Broadway Previews
Fun Home Began Previews On March 27, 2015. The Show Is The First Major Musical About A Lesbian, And It Is Getting Great Buzz But Hasn't Picked Up At The Box Office.
---
A Tour De Force Transfer From The Public Theater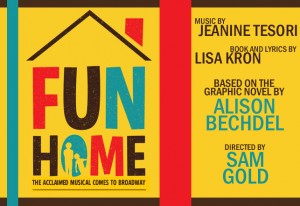 On March 27, 2015, Fun Home began previews at the Circle in the Square Theatre. This new musical transferred to Broadway following a wildly successful run at the downtown Public Theater, the not-for-profit venue that is responsible for Shakespeare in the Park, among other successful Broadway transfers such as the recently announced Hamilton.
The musical has a book by Lisa Kron, whose play Well played on Broadway in 2006, in which she also starred as a character based off of herself.
"Fun Home" Directed by Sam Gold
Therefore, Fun Home is a departure for Kron, at least in terms of the fare we have seen on the Broadway stage, as it is a full-scale musical and not intended to be autobiographical. Lisa Kron also wrote the lyrics for a score by Jeanine Tesori, who composed the music for Violet, A Free Man of Color, Shrek the Musical, Caroline, or Change, and Thoroughly Modern Millie.
The show is directed by Sam Gold, the up and coming young director who made a huge splash Off-Broadway before directing a string of Broadway shows in recent years including Seminar, Picnic, The Realistic Joneses, and The Real Thing. This, however, is his first Broadway musical directing position.
Based Off The Graphic Novel By Alison Bechdel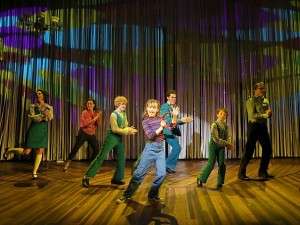 Lisa Kron and Jeanine Tesori collaborated on this musical adaptation, which is based off of a graphic novel by Alison Bechdel. The musical takes place in three time periods, which overlap non-linearly in the show.
Over the course of the musical, the protagonist, Alison, is 43 years old (as the narrator), 19 years old (as an Oberlin student), and 8 years old (as a child in her father's restored Victorian home).
A Moving Story Artfully Done
In her first year of college, Alison came out of the closet, identifying as a lesbian. Over the course of this fascinating interwoven tale, Alison explores connections between her family's history and her coming out. For instance, her father was overbearing when she was a child, she witnessed her father having a sexual affair with a man, and when he ordered her to put on a dress, she disobeyed and wore jeans instead.
Her father's death also becomes a seminal moment in her life, as she reexamines the impact this has had on her own life. The way that the three stories are told out of order is artfully done, reinventing her own story through personal connections.
Excellent Buzz But So Far Mediocre Box Office
Following its slam dunk run at the Public Theater, Fun Home came to Broadway in a storm of buzz. However, this buzz may not have extended to the entire theatergoing public, and instead may be reserved for New York locals and diehard theatre aficionados. Therefore, the show has been holding on just barely at the box office.
In the last reported week of box office figures, the week ending April 26, 2015, the show brought in $436,173, which represents just 59.33% of its gross potential. This is also the highest gross the show has seen thus far. The Circle in the Square Theatre is a very small Broadway venue, so it is difficult to make a large weekly gross, but still the show is having a difficult time even reaching the potential of that small venue.
"Fun Home" Receives 10 Tony Nominations
However, the Tony nominations may change that, as Fun Home has just been announced to have received an incredible 10, including Best Musical, Best Book of a Musical, Best Original Score, Best Direction of a Musical, Best Orchestration, three acting nominations, and two design nominations.