Forest Whitaker Makes Broadway Debut in "Hughie"
Forest Whitaker makes his Broadway debut in Hughie, written by Eugene O'Neill, directed by Michael Grandage, and produced by Darren Bagert.
---
Previews Begin at Booth Theatre for Revival of Eugene O'Neill Play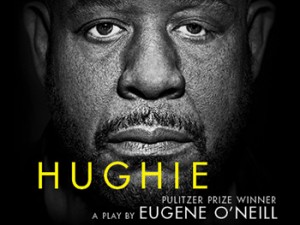 On February 8, 2016, Eugene O'Neill's play
Hughie
began previews at the Booth Theatre. With an opening night scheduled for February 25, 2016, the play is scheduled to run for a strictly limited engagement, with a closing night on June 12, 2016. This marks the fourth time that
Hughie
has played on Broadway, with the premiere taking place at the end of 1964, the first revival running in 1975, and another revival mounted in 1996. In the original production, the role of Erie Smith was played by Jason Robards, who earned a Tony Award nomination for his performance; Robards also played the part in a 1984 televised rendition for PBS. In the 2016 revival, the part of Erie Smith is played by Forest Whitaker, the Academy Award winning actor who is making his Broadway debut. Whitaker is well known for his performances in such movies as
The Last King of Scotland
, for which he took home the Academy Award, Golden Globe Award, and many other accolades, as well as
Lee Daniels' The Butler
,
Platoon
,
Bird
,
Ghost Dog: The Way of the Samurai
, and
Good Morning, Vietnam
. Starring opposite Whitaker in
Hughie
is Frank Wood in the role of the night clerk.
A Hustler Gives a Dramatic Monologue to a Night Clerk
Hughie
is an especially great role for a tour-de-force actor such as Forest Whitaker making his Broadway debut, as it is essentially one long monologue performed by the actor played Erie Smith. Smith is a small-time hustler who visits a hotel in Manhattan, where apparently he has a long-standing relationship with the previous night clerk, the eponymous "Hughie," who has since passed on. The new night clerk, a man named similarly Charlie Hughes, is a sounding board for Smith's soliloquy. The play is an excellent opportunity to showcase the acting abilities of the main performer. The revival is directed by Michael Grandage, a British theatre director and producer who has his own company, the Michael Grandage Company. On Broadway, his credits include
The Cripple of Inishmaan
starring Daniel Radcliffe,
Evita
starring Michael Cerveris, Ricky Martin, and Elena Roger,
Red
starring Alfred Molina, and
Hamlet
starring Jude Law. Eugene O'Neill, meanwhile, is one of the greatest American playwrights of all time. He has won the Pulitzer Prize for Drama four times, for
Beyond the Horizon
,
Anna Christie
,
Strange Interlude
, and
Long Day's Journey Into Night
, and some of his other well known works include
A Moon for the Misbegotten
,
The Iceman Cometh
,
Desire Under the Elms
,
The Hairy Ape
, and
Ah, Wilderness!
Producer Darren Bagert on a Career High
Hughie
is produced by Darren Bagert, a producer who is also presently represented on Broadway with
The Color Purple
and
An American in Paris
, and whose recent credits also include
Side Show
,
Of Mice and Men
,
The Glass Menagerie
,
Picnic
, and
Gore Vidal's The Best Man
. Bagert first got into the game in 2000, but only became a show's top lead producer at the end of 2014 with
Side Show
. At this point, Bagert seems to have hit his stride, finally developing a string of properties with top talent attached, that are making a considerable splash on Broadway.