"Falsettos" Opens to Great Reviews
Falsettos Opened At The Walter Kerr Theatre Receiving Great Reviews But The Box Office Is Still Struggling To Keep Up.
---
James Lapine And William Finn Broadway Musical Revived To Great Acclaim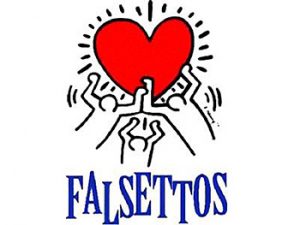 This past week, Falsettos had its opening night performance at the Walter Kerr Theatre. The show had been running in previews since September 29, 2016, and it is scheduled for a limited engagement to run until January 8, 2017.
Falsettos first premiered on Broadway in 1992, when it was created as an amalgam of two Off-Broadway shows, March of the Falsettos and Falsettoland. These shows were actually the last two installments of a trio of one-act plays, the first of which is In Trousers.
First Premiered In 1992
All of these three one-acts, and consequently the Falsettos musical, are the story of Marvin, a man who leaves his wife, Trina, to live with a man, Whizzer. In this Broadway revival, the part of Marvin is played by Christian Borle (Something Rotten!, Peter and the Starcatcher), and the part of Whizzer is played by Andrew Rannells (The Book of Mormon, Hedwig and the Angry Inch).
Marvin's ex-wife Trina is played by Stephanie J. Block (The Mystery of Edwin Drood, Anything Goes), and his son Jason is played by Anthony Rosenthal, making his Broadway debut. In addition, his psychiatrist Mendel is played by Brandon Uranowitz (An American in Paris), and other roles are played by Tracie Thoms (Stick Fly) and Betsy Wolfe (Bullets Over Broadway).
Great Reviews From A Round Of Critics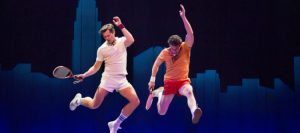 In response to this revival, Charles Isherwood of The New York Times called the show devastating and exhilarating, declaring that every single moment approaches, or even achieves, perfection. He stated that the show is as fresh and daring as it felt in 1992.
Matt Windham of AM New York called the show triumphant, deeming it to serve in equal measure doses of heartbreaking drama and farcical comedy. Adam Feldman of Time Out New York also loved the show, praising its range as well as its idiosyncrasy and emotional impact.
Praised Musical Tragicomedy
Linda Winer from Newsday was equally enamored, calling it a deeply moving treasure, and stating that she believes it is the only musical tragicomedy about AIDS. Only Jeremy Gerard from Deadline was not fully enthused, but perhaps his only complaint was that he expected Christian Borle and Andrew Rannells to be as great as they are, and that the sweet, sad, and funny musical also rose to meet expectations.
In any case, this show was an overall smash hit according to the press. It is truly a work from the heart, as evidenced by how James Lapine has risen to the occasion to direct once again, like he did the original, having also co-wrote the book with William Finn (The 25th Annual Putnam County Spelling Bee), who also wrote the music and lyrics.
A Difficult Sell At The Box Office
Despite this round of great reviews, the box office remains less than incredible. In the last reported week of box office figures, the week ending October 30, 2016, Falsettos brought in a weekly gross of $492,541, which represents 61.45% of its gross potential. With a top ticket price of $252.00, the average paid admission was $73.56, and the audience was filled up to 89.8% of capacity on average.
Even though these numbers could certainly be higher, this past week did mark the highest weekly gross of the run to date, as well as the highest percentage reached of gross potential.
Revival Lacks Freshness
Therefore, the reviews did help spur ticket sales, and perhaps word of mouth will continue to grow alongside box office numbers. The show faces the difficulty of being a revival that lacks the freshness of a new show, as well as having stars who are names but not necessarily box office names on their own. Still, it should be a strong contender in awards season.