Andrew Lloyd Webber's Evita To Close on January 26
Andrew Lloyd Webber's Evita At The Marquis Theatre Is Set To Close On January 26 Despite Strong Sales And Positive Critical Reviews With Three Stars Departing
---
Three Stars Depart Broadway Hit "Evita"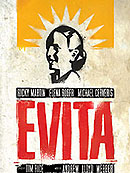 A few weeks ago the hit Broadway revival of the Andrew Lloyd Webber / Tim Rice musical Evita announced that stars Ricky Martin, Elena Roger, and Michael Cerveris would be departing in January and that a new slate of stars to replace them would soon be announced.
However, it appears that suitable replacements were not found, and the musical is now scheduled to conclude its run on January 26, 2013 when the current leads depart.
Struggle To Replace Cast

One of Evita's producers, Hal Luftig, stated, "Our extensive search for a new cast presented the significant challenges of not only replacing a high-caliber trio of stars but also synchronizing the schedules of potential replacements with that of the production. Despite going down the road with a variety of artists, the planets have simply not aligned for us to engage the right talent at the right time."
When Evita closes at the Marquis Theatre next month, it will have played 26 preview performances and 337 regular performances. A national tour of the Tony Award nominated production is expected to launch in September of 2013.
Discount Broadway Tickets
---
---