Eugene O'Neill's "Long Day's Journey Into Night" Opens on Broadway
Long Day's Journey Into Night Opened At The American Airlines Theatre And Received Great Reviews And Lots Of Tony Nominations.
---
New Play By Great American Playwright Eugene O'Neill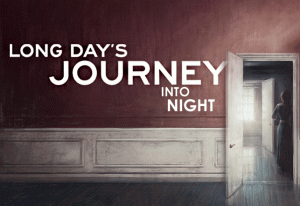 Without a doubt, Eugene O'Neill is one of the great 20th century American playwrights. According to the International Broadway Database, there have been an astounding 85 productions of works written by Eugene O'Neill produced on Broadway since 1917.
Therefore, it is a continual challenge for directors and performers not only to live up to the magic on the page, but also to re-invent it and justify yet another production of a classic play. Long Day's Journey Into Night is one of O'Neill's best-known works, itself having had six productions on Broadway, including the present revival currently running at the American Airlines Theatre in a Roundabout Theatre Company production.
A Talented Cast Headlines
This production, directed by Jonathan Kent (Faith Healer, Man of La Mancha) is also blessed with a superior cast of experienced performers. The role of the father James Tyrone is played by Gabriel Byrne (A Touch of the Poet, A Moon for the Misbegotten, and films such as The Usual Suspects), the role of the mother Mary Tyrone is played by Jessica Lange (The Glass Menagerie, A Streetcar Named Desire, TV's "American Horror Story"), the role of their son Edmund is played by John Gallagher, Jr. (American Idiot, Spring Awakening, Jerusalem), the role of their son James, Jr. is played by Michael Shannon (Grace, TV's "Boardwalk Empire," films such as Revolutionary Road, Batman v Superman), and the role of their housemaid Cathleen is played by Colby Minifie (The Pillowman, Off-Broadway's Punk Rock).
Critics Rave, Except The New York Times Finds Room For Critique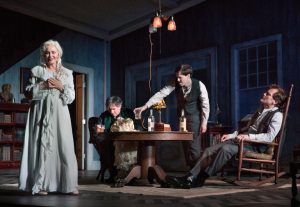 In general, the major theatre critics loved this production of Long Day's Journey Into Night, blessed with brilliant source material and a fantastic cast. Still, Ben Brantley of The New York Times was less blown away.
He praised the special effects team for their moody fog and wind effects, and was dazzled by the actors' performances, comparing them to thunder and lightning, and yet he felt that the tempest was controlled by an artificial weather provider.
Jessica Lange Shines As Mary Tyrone
He felt that the three hours and 45 minutes indeed felt long, and that Michael Shannon was not believably related to anyone else on the stage. Nevertheless, Adam Feldman from Time Out New York was mesmerized by Jessica Lange's stunning performance, with the other actors orbiting around her in this dazzling masterwork.
Jeremy Gerard from Deadline made the pitch for this as the best and most justified revival of this play to date, deeming it utterly transfixing. David Rooney from The Hollywood Reporter also called Jessica Lange "transfixing," remarking on the nervous laughter emanating from the audience as a sign of its emotionally riveting impact. Joe Dziemianowicz was also positive in his review, finding the line recitations as piercing and explosive as they have ever been.
Seven Tony Nominations Including Best Revival Of A Play
Long Day's Journey Into Night brought in the most Tony Award nominations of any straight play on Broadway this year, coming in only behind the musicals Hamilton (with 16 nominations), Shuffle Along (with 10 nominations), and She Loves Me (with eight nominations).
Long Day's Journey Into Night earned seven nominations, including those for Best Revival of a Play, Best Performance of a Leading Actor in a Play for Gabriel Byrne, Best Performance by a Leading Actress in a Play for Jessica Lange, Best Performance by a Featured Actor in a Play for Michael Shannon, Best Costume Design, Best Lighting Design, and Best Direction for Jonathan Kent.
Box Office Sales Improve After Rave Reviews
With the Tony nominations announcement and the play's opening reviews being released in quick succession, the box office is responding positively. In the last reported week of box office figures, the week ending May 8, 2016, the play brought in $433,606 across seven performances, which represents 74.39% of the show's gross potential.
While this is not quite spectacular, it is an increase of $89,012 from last week, when the show brought in only 59.12% of its gross potential. The average paid admission was also up to $85.91, and the average audience capacity reached a high of 97.4%. All in all, these are good signs for the box office performance of Long Day's Journey Into Night, which is by no means an easy sell, clocking in at almost four hours. Still, these positive reviews and awards recognition should help attract audiences to the theatre.