"Escape to Margaritaville" Opens to Negative Reviews
Escape to Margaritaville, Jimmy Buffet's Jukebox Broadway Musical, Opened to Negative Reviews at the Marquis Theatre, Box Office Does Not Look Especially Promising.
---
Jimmy Buffett's Broadway Endeavor is Open and Running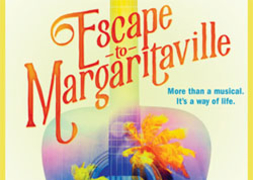 On March 15, 2018,
Escape to Margaritaville
opened at the Marquis Theatre, where it had been running in previews since February 16, 2018. With a book by Greg Garcia and Mike O'Malley, and music and lyrics by Buffett the show is directed by Christopher Ashley and choreographed by Kelly Devine. The cast is led by Alison Luff, Paul Alexander Nolan, Lisa Howard, Eric Petersen, Don Sparks, Andre Ward, and Rema Webb, along with a sizeable ensemble. The show comes to Broadway after a lengthy out-of-town tryout series, including productions in La Jolla, Chicago, Houston, and New Orleans.
The story follows Tully (Nolan), a part-time bartender at Margaritaville, a run-down hotel on a small Caribbean island, and part-time singer. When ambitious tourist Rachel (Luff) visits, she takes his heart away and makes him question the island lifestyle. The show lives in the world that Jimmy Buffett has created for himself and his large fan base, which promotes the easy living island lifestyle. The jukebox musical includes many of Buffett's hits, including L
icense to Chill, Fins, It's Five O'Clock Somewhere, Why Don't We Get Drunk, Three Chords, Son of a Son of a Sailor, Margaritaville,
and
Cheeseburger in Paradise.
Negative to Mixed Reviews, Unpromising Box Office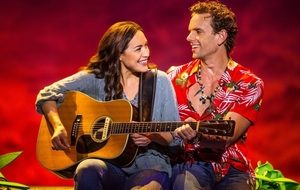 The New York Times said it makes "getting sloshed on Broadway" easier than ever, but the bad news is "you still have to see the show." The Daily News said that it "may fit the bill if you're in the mood for a breezy but dopey diversion," but admits that the show makes it easy to see why Buffett has built such a large fan base. The Hollywood Reporter said that it is "the theatrical equivalent of sipping on a frozen drink while lying on a beach chair in the blazing sun." Entertainment Weekly also qualified that it "was designed for Baby Boomers…who want to sing along to that hit they listened to while getting stoned on the beach in the '70s."
With this tepid response, it's no surprise the box office has been uninspired. In the week ending March 11, 2018, Margaritaville brought in a gross of $625,317, which represents 35.67% of its potential. With a top ticket price of $247.00, the average paid admission was $63.12, and the audience was filled up to an average of 76.2%. While the first partial week of two preview performances had an artificially high percentage reached, the overall average gross to date is just 53.01%.

Bleak Outlook For Margaritaville's Longevity
Independent of the reviews, the fan base for Jimmy Buffett's vision of Margaritaville does not seem to be large enough to saturate the necessity for a profit-making Broadway show. If the reviews were extraordinarily positive, perhaps the Margaritaville fever would have spread beyond Buffett's established fans, but as it stands, Escape to Margaritaville does not seem to have a lot of longevity in its future.
Discount Broadway Tickets
---
---