Ending and Beginnings: Delays, Closures, and Transfers on Broadway
Oslo Will Transfer To Broadway, Hello Dolly Pushed Its First Preview By Two Days, And An American In Paris Will Close Three Months Early.
---
"Singin' In The Rain" Pushes From Planned Fall Run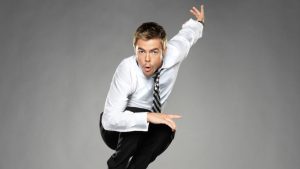 Harvey Weinstein, the powerhouse independent film producer who recently forayed into Broadway producing with Finding Neverland, is set to lead produce the theatrical version of the classic 1950s film, Singin' in the Rain.
Originally set for this upcoming fall 2016, it was recently announced that Singin' in the Rain will in fact not be playing this year. Though it is still aiming for Broadway, the season in which the show will premiere is now up in the air.
Derek Hough To Star As Don Lockwood
The lead character of Don Lockwood, the role made famous by Gene Kelly, will be played by Derek Hough, who came to fame through the television show Dancing with the Stars. Like An American in Paris, the second in line for Best Musical at the 2015 Tony Awards, Singin' in the Rain will debut in Paris before coming to Broadway, and specifically at the Théâtre du Châtelet.
Singin' in the Rain is to be directed by Robert Carsen and choreographed by Stephen Mear (Mary Poppins). The show premiered on Broadway in 1985, directed and choreographed by Twyla Tharp, from a book written by the film's writers Betty Comden and Adolph Green. While this does look to be a promising production, the show won't be on Broadway for at least another season.
"An American In Paris" To Close On October 9th
Meanwhile, the prior Théâtre du Châtelet transfer production, An American in Paris, has a stumble of its own. While originally announced to be closing on January 1, 2017, An American in Paris will close three months earlier than planned on October 9, 2016.
The producers cited the reason for this early shuttering to be the current theatrical landscape, which is a general way of attributing a failure to reach expectations to a force outside of the show's own shortcomings.
Production Is Considered A Success
While the show has not announced recoupment, the musical's representatives made a vague statement to the press implying that it might have a chance of doing so before closing. However, the decision to close earlier than an already announced closing for an originally open-ended musical run does not bode well for the show's financial prospects.
While the production will go down in history as a success, it will not likely enter financial success during the duration of its Broadway run. In a slightly less problematic hiccup, another new show, the upcoming production of Hello, Dolly! starring Bette Midler and David Hyde Pierce has pushed the start of previews by two days for unannounced reasons. Previously scheduled for March 13, 2017, the first preview of Hello, Dolly! will now be on March 15, 2017.
Lincoln Center's "Oslo" To Transfer To Broadway
Despite these difficult times for Singin' in the Rain, which is still in development, and An American in Paris, which is in the twilight of its Broadway run, other shows are just beginning to see the dawn of their success. The play Olso, written by J.T. Rogers, has had such a successful Off-Broadway run at Lincoln Center's Mitzi Newhouse Theatre that the decision was made to transfer to Broadway.
With previews starting on March 23, 2017, Oslo will have its official opening night on April 13, 2017 at the Vivian Beaumont Theatre, which is Lincoln Center's largest venue. While this is still on the Lincoln Center campus in the West 60s, it is still considered a Broadway venue, and thus Oslo will be eligible for Tony Awards in the 2016-2017 season.
A Talented Cast
The show stars Jefferson Mays (A Gentleman's Guide to Love and Murder), Jennifer Ehle (The Real Thing), Michael Aronov, Dariush Kashani, Adam Dannheisser, Anthony Azizi, Daniel Jenkins, Daniel Oreskes, Jeb Kreager, Angela Pierce, Joseph Siravo, Henny Russell, Christopher McHale, and T. Ryder Smith. The play is directed by Bartlett Sher, who also helmed J.T. Rogers' last play at the Mitzi Newhouse, Blood and Gifts.
Discount Broadway Tickets
---
---