End of the Rainbow To Host Post-Show Discussions on July 31 and August 7
Tracie Bennett Will Take The Stage As Herself In Two Post-Performance Discussions About Reviving Judy Gardland Each Night In End Of The Rainbow
---
Broadway's Post-Performances Talks Featuring Tracie Bennett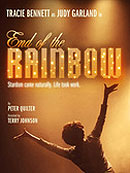 Tracie Bennett, the woman who "revives" Judy Garland each night in the Broadway show End of the Rainbow, will take center stage as herself in two post-performance talkback discussions being held on Tuesday, July 31 and Tuesday, August 7.
The Village Voice columnist Michael Musto will moderate the discussions, which will give audience members an opportunity to learn more about how Bennett transforms into the much-idolized Wizard of Oz star.
"End Of The Rainbow" Showcases Judy Garland's Legendary Voice
End of the Rainbow, written by Peter Quilter and directed by Terry Johnson, takes place in a London hotel room in 1968, as Judy Garland is preparing to do a special series of nightclub concerts.
Garland's legendary voice, as well as her persistent problems with drugs and alcohol, are showcased in End of the Rainbow, which includes Bennett singing many of Garland's best-loved songs. Following a successful run in London, the play with music began its engagement at Broadway's Belasco Theatre in April.