En Garde! Swashbuckling Arrives at the New York Public Library
Swordfighting Classes And Events Are Being Held At The Main Branch Of The New York Public Library To Raise Awareness And Interest In The Classic Sport
---
Swordfighting Demonstrations At The New York Public Library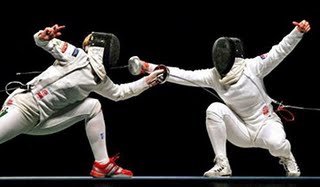 When you pop by the main branch of the New York Public Library, you can read about the escapades of the Three Musketeers and other daring adventurers—or you can (sort of) live them. Friday afternoons at 1 pm until June 25, free, hour-long fencing classes are being offered outside the Fifth Avenue branch of the library.
When New York was competing to be the home of the 2012 Olympics, fencing demonstrations were given outside the library in order to raise interest in and awareness of the sport, and the idea grew from there.
Manhattan Fencing Center Offering Classes
Instructors from the Manhattan Fencing Center provide the equipment and teach the classes. Swordfighting, in one form or another, has existed for thousands of years; the history of fencing is both complicated and multi-faceted. Fencing made its debut at the 1896 Summer Olympics; unlike other sports, professionals were allowed to compete. (Ah, if they had only known about NBA players…)
They were considered to be the first Olympic Games held in the modern era; fencing is one of the four sports that have been held at every Modern Olympic Games.
Events And Classes
Three types of weapons are used in fencing: Foil (a light thrusting weapon); Epée (a heavy thrusting weapon); and Sabre (a light cutting and thrusting weapon.) Rules about when and how they are allowed to be used are plentiful. Fencing competitions at the 2012 Olympics in London will be held from July 28-August 5 at the ExCel Exhibition Centre.
Ten events are tentatively scheduled. Suffice it to say, it's harder than it looks. Call (212) 382-2255 in order to register for the classes outside the library (registration opens a week before the class date.)