Edward Albee's "Three Tall Women" Adds Final Show
Three Tall Women will close on June 24, 2018 after a nine-performance week, as an additional show has been added on the final show day.
---
Excellent Reviews for Celebrated Revival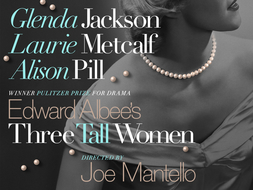 On March 1, 2018, Three Tall Women began previews at the John Golden Theatre, ahead of its opening night on March 29, 2018. Upon opening, the show garnered excellent reviews, and was declared a New York Times Critics' Pick. Jesse Green from The New York Times stated that Glenda Jackson finally found "a role that's big enough to need her," and that the play, "despite its frailties and wrinkles has aged beautifully, into a burning, raving classic." David Rooney from The Hollywood Reporter stated that "stage acting doesn't get any better" than Glenda Jackson's in this piece, and Greg Evans from Deadline praised Joe Mantello's "superb staging," stating that "Albee's Pulitzer Prize-winning late-career masterpiece has been given the loving, impeccable production that Albee apparently thought was beyond Broadway's reach." Marilyn Stasio from Variety says that watching Glenda on that stage was like "looking straight into the sun," because "it's the voice that really thrills." The play stars Glenda Jackson (The Persecution and Assassination of Marat as Performed by the Inmates of the Asylum of Charenton Under the Direction of the Marquis de Sade; Rose; Strange Interlude; Macbeth), the role of "B" is played by Laurie Metcalf (A Doll's House Part 2, Misery, The Other Place, Brighton Beach Memoirs, November, My Thing of Love), and the role of "C" is played by Alison Pill (The House of Blue Leaves, The Miracle Worker, Mauritius, The Lieutenant of Inishmore).
Run Will End With 9-Performance Week on June 24th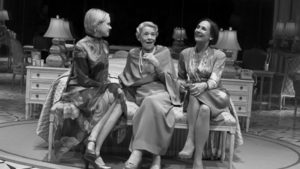 This revival of Three Tall Women is nominated for six Tony Awards, which will be awarded next weekend on June 10, 2018. These are the nominations for Best Revival of a Play, Best Performance by an Actress in a Leading Role in a Play for Glenda Jackson, Best Performance by an Actress in a Featured Role in a Play for Laurie Metcalf, Best Scenic Design of a Play for Miriam Buether, Best Costume Design of a Play for Ann Roth, and Best Direction of a Play for Joe Mantello. With such a positive reception, the show elected to add a ninth performance to the final week ending Sunday, June 24, 2018. On that day, the show will play both a matinee and an evening performance. This is a strong pledge of endurance for the entire cast, and especially for 82 year-old Glenda Jackson, whose first Broadway performance was in 1965. This additional performance is the mark of a successful production, which will most likely be recognized with Tony Awards to ensure the historic significance of this production will be unforgotten.
Strong Box Office Throughout the Run
In the last reported week of box office figures, the week ending May 27, 2018, Three Tall Women broke 100% of its gross potential for the first time. That week, it brought in a weekly gross of $940,363, which represents 100.85% of its gross potential, and the audience capacity averaged out to 100.0%, as it has been for most of the run. Over the course of the run thus far, the average percentage reached of gross potential has been 85.65%, and the average paid admission has been $123.10. This is extraordinary performance for a revival of a straight play starring three accomplished actresses who are not Hollywood A-listers. A lot of the credit for the success of this production is owed to the producer, Scott Rudin, who selected an excellent cast and creative team, and has been engaging his most strategic marketing efforts to ensure that ticketbuyers know this production is one that is not to be missed. Now, another 787 theatregoers will get to see this show in its final performance week, as one additional show has been added.