Duck, Duck…Tourist? An Amphibious Tour Recreates Henry Hudson's Voyage
NYC Duck Tour Tours Around New York City Streets and Then Launches into The Hudson River. Recreates Henry Hudson's Famous Voyage up Hudson River.
---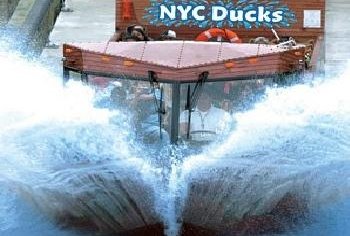 The NYC Duck Tour Launches
You may have been on a classic New York City bus tour or even a boat tour…but what about duck tour that drives around the streets and then sails in the river?
The bus/boat tour starts in the heart of Times Square and makes its way through Manhattan and then into the waters of the Hudson River (yes, you read that correctly; the "Duck" is an amphibious vehicle that transitions easily from land to water). The vehicle was inspired by the voyages of Henry Hudson's ship The Half-Moon.
Who Was Henry Hudson? Does He Drive the Boat?
Henry Hudson, for those who need a refresher, was the 16th century explorer who is known for discovering both New York and the Hudson River. The road and river tour, that was recently also known as the New York Splash Tour, includes travels to view some of New York's most famous sights (tour guides are on hand to point them out); and a stop in the NYC Ducks Theater, where you'll experience a multimedia motion-simulator ride that mimics Hudson's journey across the Atlantic (complete with rushing wind). While "Duck" tours are available at other locations around the world, this is the only one that offers the multimedia experience. and is the only one in NYC!
The tour culminates with a splash into the Hudson River for a fabulous view of Manhattan. The Duck returns to Times Square after the tour. The tour lasts between 60 and 75 minutes. Tickets can be purchased online (http://www.coachusa.com/nycducks/) or by calling 1-888-838-2570. The tour check-in is on 8th Avenue near Restaurant Row; the exact location will be given when you make your reservation. Departures are offered daily from April through November.
THE NYC DUCK TOUR OPERATION WAS CANCELLED IN DECEMBER 2012 AS THE BOAT WAS DEEMED NOT SAFE FOR THE EXTREME CONDITIONS OF THE HUDSON RIVER AND FAILED TO GET AN OPERATORS LICENSE BY THE CITY
Discount Broadway Tickets
---
---