Dodger Theatricals Counts On 'Jersey Boys' Movie To Counter Its Fading Glory On Broadway
---
Jersey Boys
, the jukebox musical recounting the rise and fall of the 1960s rock-n-roll group The Four Seasons, has been playing at Broadway's August Wilson Theatre since 2005. Produced by Dodger Theatricals, the musical has had quite an extraordinary run thus far. Since earning 8 Tony Award nominations in 2006 – and winning 4, including Best Musical –
Jersey Boys
broke the August Wilson Theatre's box office record for the 30
th
time in January 2010 (with a weekly gross of $1,440,456), and it presently holds the record for the 14
th
longest running show ever on Broadway. Furthermore, the show has had two national tours and productions all over the world, from London to Singapore to South Africa. However, though a frequent member of the millionaire's club over the course of its run,
Jersey Boys
on Broadway has been struggling to compete with its old numbers in recent years.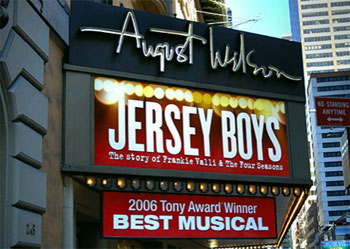 Nevertheless, the producers have decided to capitalize on the musical's global success by giving their blessing to a film adaptation. The musical film will be released theatrically on June 20, 2014 by Warner Bros. Pictures. It is directed by Clint Eastwood, and the screenplay is written by Tony Award winning playwright John Logan (
Red
) based on the play script by Marshall Brickman and Rick Elice, including songs by Bob Gaudio and Bob Crewe. The film is produced by Graham King (
Argo
) and Robert Lorenz (
Million Dollar Baby
), and executive produced by Frankie Valli. The starring role of Frankie Valli is played by John Lloyd Young, who originated the role on Broadway and won a Tony Award for his performance. The decision to make a film of a successful Broadway show follows the precedent led by, among others,
Mamma Mia!
, which released its film version in 2008 after running on Broadway since 2001. Though the film release didn't move the needle for the Broadway box office in that case, it did expose the show to an international audience, thereby benefitting the overall property. However, the films of
Jersey Boys
and
Mamma Mia!
differ in terms of their casting strategies. Whereas
Mamma Mia!
took the big screen opportunity to woo big screen talent including Meryl Streep, Pierce Brosnan, Colin Firth, and Amanda Seyfried, Clint Eastwood has opted to cast the
Jersey Boys
movie with mostly stage actors, specifically those who originated the roles on Broadway. One exception is the recent casting announcement of Christopher Walken, who will play the mobster Angelo "Gyp" DeCarlo. It will be interesting to see if the
Jersey Boys
movie makes as big a splash without Hollywood actors leading the cast. Two more examples of poor stage to screen transition were
The Producers
(2005) and
Rock of Ages.
(2012), both were critical and box office failures. In any case, the added exposure beyond the stage to the screen can only help increase global awareness of the show. Like with
Les Misérables
whose recent film version encouraged the 2014 revival, the
Jersey Boys
movie will surely increase interest in the show. Even if, like
Mamma Mia!
, the film does not necessarily boost sales for the Broadway production, it will certainly help promote future touring and international productions.