"Doctor Zhivago" Begins Performances on Broadway
Doctor Zhivago Began Broadway Previews On March 27, 2015. Box Office Is Only Mediocre So Far, But The Show Opens Next Week. The Epic Tale Has A Beautiful Score.
---
Based On The 1957 Novel By Boris Pasternak
On March 27, 2015, Doctor Zhivago began previews at the Broadway Theatre. Based on the 1957 novel of the same name by Boris Pasternak, this new musical first premiered in 2006 at the La Jolla Playhouse in California. In 2011, Des McAnuff (Jersey Boys, 700 Sundays, Guys and Dolls) took the helm as director for a touring production in Australia.
That production received excellent reviews, finishing up its tour in Melbourne and then Brisbane. This 2015 Broadway production is also directed by Des McAnuff.
Impressive Creative Team For "Doctor Zhivago"
In addition to the stage adaptation, Pasternak's novel was adapted into a film in 1965 directed by David Lean, which won five Academy Awards including Best Adapted Screenplay and Best Original Score. The musical has a book by Michael Weller (Spoils of War, Loose Ends, Moonchildren), music by Lucy Simon (The Secret Garden), and lyrics by Michael Korie (Grey Gardens) and Amy Powers (Sunset Boulevard).
This creative team therefore has an impressive pedigree, and the beautiful score shows this talent thoroughly. The Broadway production is choreographed by Kelly Devine (Rocky, Memphis, Rock of Ages). Official opening night is scheduled for April 21, 2015.
A Love Story From The Russian Revolution To World War I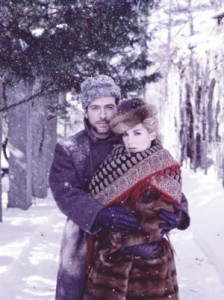 Doctor Zhivago is epic in scope, set against the backdrop of a crucial period in Russian history, and yet it is deeply personal – telling the story of a woman loved by three men and a man loved by two women. Lucy Simon's score is as gorgeous as it is varied – the songs are stirring, sometimes even mesmerizing, and they help enormously to move this tale along efficiently and powerfully.
The characters evolve over a long period of history; Lara (Kelli Barrett) is a vibrant and visceral female lead, as she undergoes significant development but always keeps her strong will. The role of Yurii Zhivago is played by Tam Mutu, making his Broadway debut.
The Talented Cast
The fascinating role of Pasha is played by Paul Alexander Nolan, and he recurs in Act II as the vengeful Strelnikov. Other roles are played by Jacqueline Antaramian, Lora Lee Gayer, Sophia Gennusa, Jonah Halperin, Jamie Jackson, and Tom Hewitt (The Rocky Horror Show).
Ultimately, this is a rich and compelling piece – it is a story of war and retraction of basic human rights, as well as love against all odds and devotion to artistic expression – compounded with a powerful score and a vastly recognizable title.
Presently At The Box Office
In the last reported week of box office figures, the week ending April 19, 2015, Doctor Zhivago brought in $464,613, which represents 41.48% of its gross potential. That remained almost exactly the same from the week before, which brought in 41.78% of its gross potential, though with one more performance.
The audience capacity also remained fairly steady, increasing from 75.4% to 78.3%. However, the following week will incorporate the first post-opening figures, and it will remain to be seen whether the notices in the papers and online will contribute to theatregoers' excitement about this piece, or whether the institution of Doctor Zhivago may not hold interest in this competitive Broadway season.