Disney's Aladdin Finally Hits the Broadway Stage
The Musical Adaptation Of Beloved 1992 Disney's Film Aladdin Began Previews At New Amsterdam Theatre On February 26, 2014 After Successful Pre-Broadway Run.
---
Musical Adaptation Of "Aladdin" Takes The Stage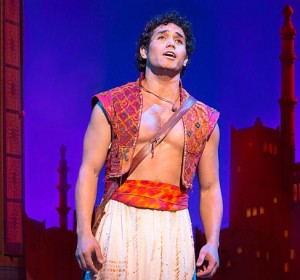 Aladdin, a musical stage adaptation of the beloved 1992 Disney movie, has finally come to Broadway. Previews began on February 26, 2014 at the New Amsterdam Theatre on 42nd Street, and the red carpet opening night will take place on March 20, 2014.
Based off of centuries-old folklore including One Thousand and One Nights, Aladdin is the story of a street urchin who wins the heart of a princess with the help of a genie from a magic lamp.
Talented Creative Team Of "Aladdin"
With a musical score by Alan Menken and lyrics by Howard Ashman and Tim Rice, the stage version incorporates additional lyrics and a book written by Chad Beguelin (Elf the Musical, The Wedding Singer).
The show is directed and choreographed by Casey Nicholaw (The Book of Mormon, Monty Python's Spamalot, The Drowsy Chaperone). The cast is led by Adam Jacobs (The Lion King, Les Misérables) as Aladdin, Courtney Reed (In the Heights, Mamma Mia!) as Princess Jasmine, James Monroe Iglehart (Memphis, The 25th Annual Putnam County Spelling Bee) as Genie, and Jonathan Freeman (The Little Mermaid, Mary Poppins) as Jafar.
Disney's Success On Broadway
Freeman also played Jafar in the original animated film. Furthermore, the musical features a trio of sidekicks to Aladdin, who reportedly were conceived and then discarded during the making of the original film, but who are now finally incorporated into this stage adaptation. These roles are played by Brian Gonzales as Babkak, Brandon O'Neill as Kassim, and Jonathan Schwartz as Omar.
Aladdin is the newest in a line of Disney animated movie to musical theatre adaptations mounted by Disney Theatricals, whose producing history includes Beauty and the Beast, The Lion King, Tarzan, Mary Poppins, and The Little Mermaid. Three of these were enormous hits.
Disney's Notorious Flops
Beauty and the Beast ran for 13 years (from 1994 to 2007), grossing over $1.4 billion worldwide. The Lion King has been a huge smash since its opening in 1997, and this past October it became the first show to gross over $1 billion from its Broadway production alone. Mary Poppins also had a profitable run from 2006 to 2013, recouping its investment after only one year.
However, Tarzan and The Little Mermaid were notorious flops, failing to attract an audience despite the success of their precursors. Therefore, Aladdin is not necessarily a shoo-in for mega-hit, but its fate will be more discernible when the reviews come out after its opening. The show has had several out-of-town runs prior to its arrival in New York.
Successful Pre-Broadway Run
After its premiere at Seattle's 5th Avenue Theatre in July 2011, the musical has had stints in Ivins, Utah in June - October 2012, St. Louis, Missouri in July 2012, and it has just completed its official pre-Broadway run at Toronto's Ed Mirvish Theatre, where it ran from November 2013 to January 2014.
It is not unusual for a musical's producers to counter their risk by trying out a show in a different city before bringing it to Broadway. In anticipating a Broadway run, producers may choose to enhance the budget of a not-for-profit theatre's production of the show while retaining legal rights to the property, and generally while maintaining a degree of creative control.
Opportunity To Tweak Creative Elements
Though they do not stand to profit monetarily from the early run, they can test the waters in the press to tweak creative elements before investing the whole Broadway budget, and they can also economize by keeping the same costumes and sets. In certain cases, if the show really isn't as good as predicted, they may even decide to cut their losses and put a kibosh on the Broadway run.
Though they would have lost their enhancement (often in the realm of one million dollars), they would be avoiding an eventual loss of much more (Broadway musical budgets can easily range $10 - $16 million). In this light, the fact that Aladdin has had so many pre-Broadway productions implies that its producers were not satisfied with the quality of the first run and felt the need to make adjustments.
"Aladdin" Receives Mixed Reviews In Toronto
Despite any changes that may have been made after the first three attempts, Aladdin's most recent run in Toronto still triggered a mixed response. The Toronto Star said that A Friend Like Me was a show-stopping number, but otherwise the musical did not match up to its animated predecessor.
The Vancouver Sun predicted that kids may enjoy the spectacle and simple story, but that its gleam may be lost on adults who crave more complex characters. Still, Canada's National Post gave it a rave. In any case, critical response does not always dictate ticket sales, and over time we may see the brand power of this animated classic overriding ambivalence from the press.