Disney Confirms "Frozen" Stage Musical in Development
Posted on June 04, 2014
Robert Lopez and his wife Kristen Anderson-Lopez, who wrote the songs for the hit Disney film Frozen, are planning to adapt it to the stage for a potential Broadway run. They are also in development for a musical called Up Here directed by Alex Timbers, that will premiere at San Diego s La Jolla Playhouse.
---
Bobby Lopez Returns to Broadway with a Screen Success
Bobby Lopez, the co-songwriter of the 2013 smash hit Disney film
Frozen
, is no stranger to Broadway. He made a name for himself when he co-wrote the raunchy puppet musical
Avenue Q
, which won the 2004 Tony Awards for Best Musical as well as Best Original Score. In an even more stupendous success, he followed that show by co-writing
The Book of Mormon
along with South Park creators Trey Parker and Matt Stone.
The Book of Mormon
, which also won the Tony Awards for Best Musical as well as Best Original Score, has been playing a sold-out run at the Eugene O'Neill Theatre since March 2011, and it remains an extremely tough ticket to this day. Unlike many Broadway composers, however, Lopez did not keep his sights set on the stage only. After a few other ventures into screen composing, Bobby, along with his wife Kristen Anderson-Lopez, scored the gig to write songs for the 2003 Disney film
Frozen
. In addition to winning the Academy Award for Best Animated Feature,
Frozen
was also awarded the honor of Best Original Song, written by the Lopez duo, which was "Let It Go" sung by Broadway favorite Idina Menzel.
"Frozen" Stage Musical in Early Stages of Development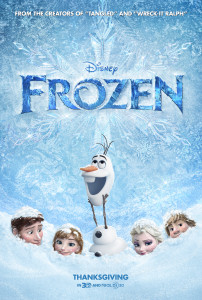 In January of this year, it was announced that Robert Lopez and Kristen Anderson-Lopez are in the early stages of adapting
Frozen
to become a stage musical. Disney has had many stage hits in the recent past, including
The Lion King
,
Mary Poppins
, and the newly running
Aladdin
. The film
Frozen
includes eight original songs by the husband and wife team, and presumably they would write additional tunes for the stage score, which would rely more heavily on music in place of animation. Time will tell whether Idina Menzel, a Broadway star who has performed in such shows as
Rent
and
Wicked
, will reprise her role as Elsa, the 21 year-old snow queen who inadvertently turns her kingdom into ice. If this were to happen, the storyline would need to be slightly adjusted for Idina, who is presently 43 years old. At this time, she is starring in a new musical called
If / Then
, where she plays a 40 year-old woman who moves back to New York City in search of a new start after a divorce. The other lead role in the film, Princess Anna, was played by Kristen Bell, the beloved screen star known for her role on the television series
Veronica Mars
. Bell has only been on Broadway twice; the last time was
The Crucible
in 2002. Therefore, it will be fascinating to see if she reprises her screen role on the stage as well.
But First, "Up Here"
Though
Frozen
is still in its early stages of becoming a stage show, Bobby Lopez and Kristen Anderson-Lopez are keeping busy.
They have written the score to another new musical called
Up Here
, the storyline of which follows a millennial protagonist named Dan who reckons with his subconscious mind while seeking a romantic relationship. That show will premiere at San Diego's La Jolla Playhouse in the 2015 - 2016 season directed by Alex Timbers, a young director who has made a name for himself with such hit shows as
Bloody Bloody Andrew Jackson
,
Peter and the Starcatcher
,
Rocky
, and
Here Lies Love
.
Up Here
is a more alternative story, and therefore its potential to transfer to Broadway is questionable. This tryout run will serve to show Broadway producers if such a niche story could have a wide enough appeal to survive in this competitive marketplace. In any case, the Lopez duo and Timbers both have plenty of connections to keep on making mainstream potential hits such as
Frozen
, while also experimenting with more alternative fare.