"Disgraced" Graces the Broadway Stage
Disgraced Begins Previews Tonight September 27, 2014. This Pulitzer Prize Winning Play Transfers To Broadway After A Successful Run At Lincoln Center.
---
Pulitzer Prize Winning Play Transfers To Broadway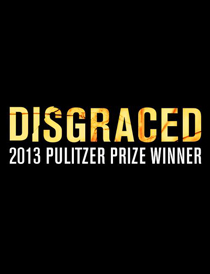 On September 27, 2014, Disgraced plays its first preview at the Lyceum Theatre on Broadway. This play by Ayad Akhtar is a success story, transferring to Broadway after a successful run in fall 2012 Lincoln Center's smallest venue, the Claire Tow Theatre, as part of their LCT3 program for new writing.
The play went on to win the 2013 Pulitzer Prize for Drama, as well as the 2013 Obie Award for Playwriting. It also ran in the Off-West End venue The Bush Theatre in spring 2013.
Ayad Akhtar's Success Story
Ayad Akhtar is a Pakistani American, whose career has spanned acting as well as writing for film and television, but Disgraced was his first play. Akhtar was born in Staten Island, New York City, and attend Brown University for theater, followed by his MA in directing from Columbia School of the Arts. He has also published his first novel, American Dervish, which received positive reviews on its publication in 2012.
"Disgraced" Is A Study On Islamophobia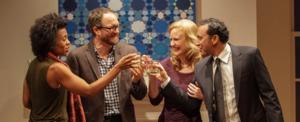 The play centers on a Muslim-American lawyer named Amir Kapoor, and his Caucasian wife named Emily who is an artist focusing on Islamic imagery.
The 90-minute play is performed without an intermission, and is set on an evening when the couple has invited another couple over for dinner.
A Powerful Play With Touching Themes
Jory is Amir's colleague from work, and her husband Issac is Emily's art dealer, who happens to be Jewish. The conversation at dinner centers on a case involving Amir's nephew Abe, an assimilated Muslim who is concerned with the arrest of a local imam, believing it to be religious persecution.
The play is powerful because of the themes discussed at dinner – where the four conversants happen to be a Muslim, a Jew, an African American, and a WASP – touching on topics including September 11th, Islamic tradition, the Taliban, and racial profiling.
The Broadway Debut For Danny Ashok
The production at the Lyceum is directed by Kimberly Senior, who was behind the LCT3 production as well as the Chicago production earlier in 2012. This is her first Broadway directing credit. The cast includes Hari Dillion as Amir, who played the role in the London production and received rave reviews; this is his Broadway debut.
This is also the Broadway debut for Danny Ashok, who plays his nephew Abe. The role of his wife Emily is played by Gretchen Mol, best known for her performance on Boardwalk Empire, but also for her stage credits including Neil LaBute's The Shape of Things in both London and New York.
Josh Radnor Stars As Isaac
Josh Radnor plays Isaac; he has been on Broadway once before – in 2002's The Graduate – but is also known for his screen roles such as television's How I Met Your Mother. Finally, the role of Jory is played by Karen Pittman, who was recently seen in Bruce Norris' Domesticated at Lincoln Center, and whose previous Broadway credits include understudy roles in Good People and Passing Strange.