"Disaster!" Begins Previews at the Nederlander Theatre on Broadway
Disaster! Began Previews At The Nederlander Theatre, Marking Seth Rudetsky's Remarkable Debut As A Broadway Show Writer And Conceiver, As Well As A Leading Actor
---
Seth Rudetsky Conceived, Wrote, Arranged, Supervised, and Stars
This past week, Disaster! Began previews at the Nederlander Theatre. A new show parodying the concept of 1970s disaster-themed movies, Disaster! incorporates a slew of well-known pop songs featuring disco hit tunes from the 1970s. For Disaster!, Seth Rudetsky is billed as the co-book writer, co-concept creator, song arranger, musical supervisor, and the actor playing Professor Ted Schneider. Though this is not technically Rudetsky's Broadway debut – he played keyboard for Grease in 1997 and was a featured actor in The Ritz in the fall of 2007 – Disaster! certainly marks Rudetsky's Broadway outing as a force to be reckoned with in his domain of expertise.
A versatile talent and extravagant personality, Seth Rudetsky first became a well-known entity in the Broadway world though his job hosting two shows on the Sirius XM "On Broadway" station, "Seth's Big Fat Broadway" and "Seth Speaks," which showcase Rudetsky's impressive knowledge of Broadway trivia and history, accompanied by his musical skillsets. He also hosts a live show called "Seth's Broadway Chatterbox" on Thursday nights at the midtown nightclub Don't Tell Mama. Prior to coming out as a Broadway expert, Seth was also a comedy writer for The Rosie O'Donnell Show, for which he earned three Emmy Award nominations.
Earthquakes, Tidal Waves, Infernos, and Wildlife Take Broadway by Storm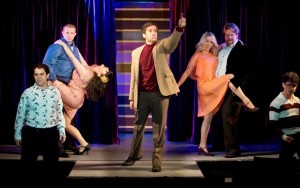 In this outrageous show, a series of major disasters strike a hilarious cast of characters aboard a floating casino and discotheque in New York City. Taking inspiration from the disaster B-movies prevalent in the 1970s, this musical comedy makes fun of the genre while also leveraging its own comedic strengths. Along with Rudestky, the show's concept was also created by Drew Geraci, a longtime friend of Rudetsky's who has appeared over the years on Broadway in bit parts in A Chorus Line, La Cage aux Folles, and The Scarlet Pimpernel.
Also, along with Rudetsky, the book was written by Jack Plotnick, who is also the show's director. The choreographer is JoAnn M. Hunter, whose previous credits include School of Rock – the Musical and On a Clear Day You Can See Forever. As for the cast, in addition to Rudetsky, the starry ensemble includes well-known performers such as Roger Bart (Tony winner for You're a Good Man, Charlie Brown), Kerry Butler (Tony nominee for Xanadu), Kevin Chamberlin (Tony nominee for Dirty Blonde, Seussical, and The Addams Family), Adam Pascal (Tony nominee for Rent), Faith Prince (Tony winner for Guys and Dolls and nominee for Bells Are Ringing, A Catered Affair and Jerome Robbins' Broadway), Rachel York (Drama Desk winner for Victor/Victoria), Jennifer Simard (four-time Drama Desk nominee), and Manoel Felciano (Tony nominee for Sweeney Todd), not to mention the show's main attraction, Seth Rudetsky.
Off to an Unsure Start at the Box Office
In the first week of reported box office figures, the week ending February 14, 2016, Disaster! played seven performances. For these numbers, it is difficult to tell whether the show will have legs. Across those seven shows, Disaster! brought in $364,575, which represents 32.44% of its gross potential. With a top ticket price of $197.00, the average paid admission was $55.80, and the audience was filled up to an average capacity of 68.2%. This was also in the week including Valentine's Day weekend, which was a very well-attended week on Broadway.
Therefore, the show may have difficult picking up steam through previews. However, once the show opens on March 8, 2016, the enthusiasm of the reviews will have an impact on box office success moving forward. Unlike many new musicals, Disaster! is presently scheduled for a limited engagement to conclude on July 3, 2016. Though an extension is possible, the schedules of the busy cast are likely a major factor in the decision to keep the show to a finite duration.