"Dear Evan Hansen" Receives Rave Reviews
Dear Evan Hansen Opened At The Music Box Theatre To All-Around Great Reviews, Especially Regarding The Star Turn Of Lead Actor Ben Platt As Evan Hansen.
---
New Teenage Musical Now Open On Broadway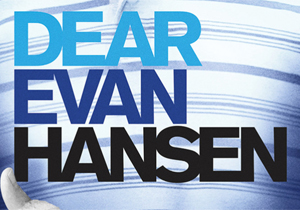 This past week, Dear Evan Hansen had its official opening night at the Music Box Theatre. The show had been running in previews since November 14, 2016, and is set for an open-ended run.
The musical is an intriguing story set in a high school with plot twists and high emotions, along with an excellent score. The show has a book by Steven Levenson, along with music and lyrics by Benj Pasek and Justin Paul, the same duo behind A Christmas Story the Musical.
World Premiere At Arena State in Washington, D.C.
This show is a success story driven to Broadway by positive acclaim. It had its world premiere at the Arena Stage in Washington, D.C. in July 2015, and then transferred to New York in an Off-Broadway production at Second Stage. The show is directed by Michael Greif, who has expertly executed shows dealing with young people before, such as Rent and Next to Normal.
The lead role of Evan Hansen is played by break-out star Ben Platt, along with Laura Dreyfuss as his love interest Zoe Murphy, Mike Faist as the deceased bully Connor Murphy, Rachel Bay Jones as Evan's mother Heidi Hansen, Jennifer Laura Thompson as the Murphys' mother Cynthia, and Michael Park plays the Murphys' father Larry.
A Round Of Rave Reviews From Critics Near And Far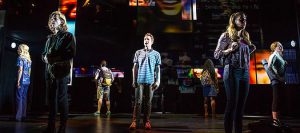 It's been a long time coming for this show to reach Broadway, and its path has been fueled by positive reviews all along. Therefore, it's not entirely surprising that the show performed so well critically, but it is encouraging for awards season and box office promise.
Charles Isherwood of The New York Times found the show to be a gorgeous heartbreaker, stating that the Broadway production has even greater emotional potency than the previous smaller productions.
Ben Platt Excels As Evan Hansen
Matt Windman from AM New York called the show altogether extraordinary, along with smart and deeply felt. Jeremy Gerard from Deadline called the show exquisite. Chris Jones from the Chicago Tribune also lauded the show as extraordinary, and specifically remarked about the performance of Ben Platt as Evan Hansen, who first came to notice in the Chicago production of The Book of Mormon, and whose performance in this show Jones calls astonishing.
Adam Feldman of Time Out New York also sang the praises of Ben Platt in this role, calling out his first-rate comedic timing, beautifully expressive tenor voice, and highly refined dramatic acting.
Signs Of Promise At The Box Office
In the last reported week of box office figures, the week ending December 4, 2016, Dear Evan Hansen brought in a weekly gross of $757,958, which represents 74.18% of its gross potential. However, that is an anomaly week of the run so far, as the first two weeks brought in 91.44% and 99.65% of the gross potential, respectively.
One reason the gross this past week may have been lower is that producers generally give out complimentary tickets in the days leading up to opening night for critics to review the production, and also to fill any empty seats with laughing, crying, reacting members of the audience to enhance the emotional energy in the room.
Audiences Filling Up Fast

Nonetheless, the show has also been reaching almost full capacity, with the audience filled up to no less than an average of 98.1% in any week of the run so far. This past week was also the first week of eight performances, as opposed to the first two weeks in which it played seven per week.
However, once the box office figures are released for the following week, it will be clear if the extraordinary reviews had an immediate positive impact on the financial figures. In any case, it is promising for the future that this new musical has come so far and is still blowing critics away.