David Hare's "Skylight" Begins Previews
Skylight, Written By David Hare And Directed By Stephen Daldry, Began Previews At The John Golden Theatre On Friday Night, Starring Carey Mulligan.
---
The Long Road For "Skylight" From The National Theatre To Broadway
On March 13, 2015, Skylight began previews at Broadway's John Golden Theatre. It is scheduled to open officially on April 2, 2015, and to run for a limited engagement until June 14, 2015. The play was written by David Hare, and first premiered in 1995, when it was directed by Richard Eyre starring Michael Gambon and Lia Williams.
At the time, it opened at the National Theatre's Cottesloe Theatre, transferred to the West End, and then to Broadway, where it was nominated for the Tony Award for Best Play, among other Tony nominations.
"Skylight" Broadcast To Cinemas Around The World
It had also won the Olivier Award for Best New Play in 1996. Following the Broadway premiere, Skylight returned for another engagement in the West End, this time at the Vaudeville Theatre starring Bill Nighy and Stella Gonet in 1997.
In June 2014, a revival of Skylight opened at the Wyndham's Theatre. That revival was directed by Stephen Daldry, and starred Carey Mulligan alongside Bill Nighy, playing the same part as in 1997. In July 2014, the show was broadcast to cinemas around the world through the National Theatre's NT Live programme. This helped it gain momentum towards its Broadway run, where it has just begun previews with the same cast as the recent West End revival.
A Promising Start At The Box Office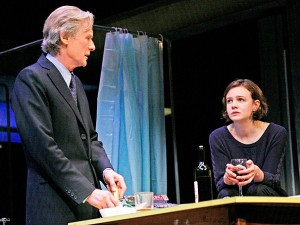 In the three performances for which box office figures have been thus far reported, Skylight is performing fairly well, although it is not selling out at this stage. Over the course of those three shows, the box office gross was $253,369, which represents 83.59% of its gross potential.
With an average paid admission of $105.31, the show's top ticket price was $248.00, and the audience was at 100.0% capacity. This demonstrates that the show's producers – Robert Fox and Scott Rudin – have stealthily employed discounting strategies to perfectly fill up the house while maximizing box office grosses.
Discounted Tickets Hoping To Bring In Wider Audiences
Of course, the expert ticket price strategist Scott Rudin would much prefer not to discount at all, a feat he has managed with an astounding number of his shows, and perhaps as word of mouth spreads, and reviews are eventually published, the production may gain enough traction so as to be able to stop discounting.
After all, Carey Mulligan is a big household name, especially with her recent film starring roles such as Daisy in Baz Luhrmann's The Great Gatsby. Furthermore, the NT Live exhibition of the London production has served as the best advertising a play can ask for, so hopefully ticket sales will continue to increase as the spring weather comes on more strongly.
Carey Mulligan Stars As Kyra Hollis
Skylight is the first of David Hare's plays to be set wholly in one room. Carey Mulligan plays Kyra Hollis, a schoolteacher in East London who had previously been living with a family by the name of Sargeant.
The play has only three characters. At first, Kyra converses with Edward Sargeant (played by Matthew Beard), who was the son of the family she had lived with. It comes out that Kyra had had an affair with Edward's father Tom, and she had left her living quarters with their family when Tom's wife had discovered this adultery.
A Small Play With A Large Message
Since that time, Edward's mother has died, and he confronts Kyra about having abandoned him, as he considers her to be like a sister to him.
Soon, Tom shows up unannounced, and Kyra cooks an entire spaghetti dinner for him onstage. It becomes clear that the future of their relationship depends on whether they can both lay to rest their preconceived opinions of each other.