Davenport's Black Box Has Daddy Issues
Yuval David Stars As Donald Moscowitz In The Light-Hearted Comedy Daddy Issues At Davenport's Black Box Theatre.
---
"Daddy Issues" Off-Broadway Review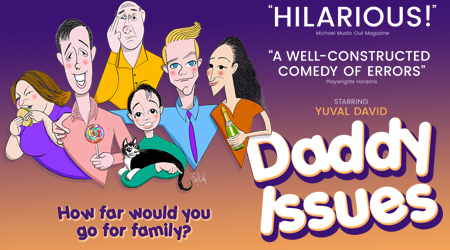 You might question if you have your own daddy issues after seeing David Goldyn's latest incarnation, Daddy Issues, which is a light-hearted comedy now playing Off-Broadway at the Davenport Theatre at 354 W 45th St, New York.
Starring Yuval David as Donald Moscowitz, Daddy Issues is filled with a bevy of loony characters, as Donald's meddling family and friends. Most of the characters are over-the-top caricatures, brought together by David's portrayal of Donald, in whom they all seem to have a vested interest, although sadly not always disclosed in the storyline.
Light-Hearted Comedy
It becomes apparent early on in the show that Donald's overbearing parents Marion and Sid Moscowitz, played by Kate Katcher and Tony Rossi, are driving Donald (Yuval David) completely crazy. Much like so many older parents nowadays, the Moscowitz parent's life goal is for their son Donald to get married to a woman and give them grandchildren.
The parents must be relentlessly annoying (though we don't really see that in the show) because Donald concocts a scenario to get them off his back. His two friends Levi and Henrietta, played by Sam Given and Elizabeth Klein, become his cohorts and accomplices in a wacky plan for him to pretend he had a secret son, Ryan. Donald hires a savvy 10-year-old neighbor, played on different nights by Alex Ammerman and Austin Levine, to pretend to be his son to appease his parents need for grandchildren.
Could Use A Stronger Script
The trick quickly spirals out of control as his parents and grandmother, played by Deb Armelino, strive for even more control of Donald, his life, and his now newly discovered son. This is a fun play that is sure to elicit laughter and gasps from the audience as they watch poor Donald deal with the ever-growing insanity of the overbearing characters all trying to take over his life at the same time.
The zany antics all happen in the shabby apartment Donald chose to live in, instead of accepting Daddy's job offer and money, he is trying to make it on his own as an out-of-work actor. Donald chooses his desired lifestyle, as opposed to what his parents wish. He finds that the only way to justify it is through the lies he creates to quiet them and get them away.
SNL Style Production
His Daddy Issues are what propel the action of the play and leads us into his journey. The airy premise of the show actually works, but would be clearly better served with a somewhat meatier script and higher stakes for all the characters that surround Donald.
This is a fun piece of theatre that resembles a long version of an SNL skit with over-the-top characters who are wrangled and grounded by the spot-on performance of Yuval David, as the not-so-straight comedy straight-man.
Promising Start For Yuval David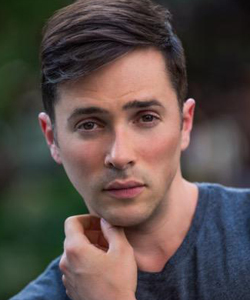 Yuval David and his nuanced reactions to the other actors consistently set-up every joke in the play and follow-through to the laugh. Yuval is exceedingly funny and charming. His performance is the glue that keeps the play on track, connected to the stakes of the script, as they all affect the outcome of Donald's life.
Whether in the script or the performances, the clamorous characters that Donald deals with elicits varied audience emotions from frustration to the hysterical. The most connected and believable performance comes from the lead, who runs the gamut of emotions and reactions, while the other actors rambunctiously pop in and out of the scenes with great comic timing.
Dynamic Duo Give "Daddy Issues" New Meaning
The cutest scenes in this show are between Donald and Johnny Walker, the 10-year-old neighbor. These two give the Daddy Issues a new meaning, and a somewhat positive spin, as they create the family life they probably really want but might not have known.
Donald and Johnny are the heart of the play but Donald's ex-girlfriend, played by Megan MacPhee, leaves us wanting to see more from her, but the ultra-light script does not allow us to see what MacPhee could bring to a meatier role.
The Show Still Needs Work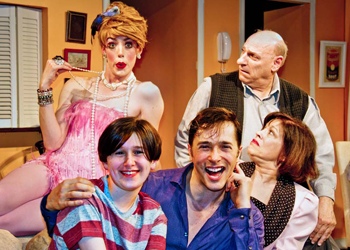 It is clear to see that something is holding the actors back in this limited-run show, be it the script or the direction. With a thorough rework of the material, and a good punch-up of the jokes, Daddy Issues could easily be revamped into a classic farce format that would convert the steady, bright spots of laughter into the flood, which is what this comedy ultimately deserves.
Overall this off-Broadway show is entertaining and has good potential, but it needs some thorough re-working of the script. Daddy Issues plays through April 24, 2016 at the Davenport Theatre, 354 W 45th Street, New York. For further information or tickets, go to www.DaddyIssuesThePlay.com