Cynthia Nixon, Laura Linney Star in "The Little Foxes" on Broadway
The Little Foxes By Lillian Hellman Began Previews At The Samuel J. Friedman Theatre On Broadway Starring The Talented Laura Linney And Cynthia Nixon In Alternating Lead Roles
---
Two Masterful Actresses Alternate in Lead Roles Each Night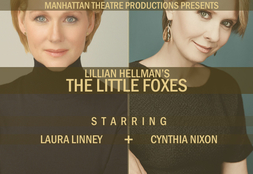 This past week, The Little Foxes began previews at the Samuel J. Friedman Theatre on Broadway. This Manhattan Theatre Club production is set for an opening night on April 19, 2017, and the run is currently scheduled to conclude on June 18, 2017. This play by Lillian Hellman was written in 1939 and including this production, has been mounted on Broadway a total of five times. The original 1939 production starred Tallulah Bankhead as Regina Hubbard Giddens, and was a vast success, leading to Bankhead's being named the best actress of the year in Variety magazine.
The first revival in 1967 was directed by Mike Nichols and starred Anne Bancroft, the 1981 revival was directed by Austin Pendleton and starred Elizabeth Taylor, and the 1997 revival was directed by Jack O'Brien and starred Stockard Channing. As for the current 2017 revival, this production takes the concept of leading lady to another level.
Broadway Show Reveals Actress' Skills in Switching Roles
Rather than merely casting one unstoppable actress in the role of Regina, the ingenuity of this production incorporates the challenge of two actresses alternating on different nights in two different roles – Cynthia Nixon and Laura Linney take turns playing the roles of Regina and her step-sister Birdie. The tactic of alternating roles in their entirety has been employed on a few notable occasions over the years; a recent example is Ian Rickson's 2012 revival of Harold Pinter's Old Times, which starred Kristin Scott Thomas and Lia Williams in alternating roles.
Daniel Sullivan Directs "The Little Foxes" for the Modern Day on Broadway
The director of this production of The Little Foxes is Daniel Sullivan, whose previous Broadway credits include Sylvia, The Country House, The Snow Geese, Orphans, and Glengarry Glen Ross. Sullivan is a regular director of plays at the Manhattan Theatre Club, where he also served as Acting Artistic Director from 2007 to 2008, filling in for Lynne Meadow. Cynthia Nixon is best known for portraying the role of Miranda on HBO's "Sex and the City," and is also an experienced actress on Broadway, where her credits include The Real Thing, Wit, Rabbit Hole, and The Women.
Laura Linney is also a beloved star of stage and screen, and her Broadway credits include Time Stands Still, Les Liaisons Dangereuses, Sight Unseen, and The Crucible. Lillian Hellman is one of the most successful female playwrights of the twentieth century. Her other works include The Children's Hour, Days to Come, Watch on the Rhine, The Searching Wind, and Another Part of the Forest. Recently, her play The Children's Hour was given a starry revival in London in 2011, with Elisabeth Moss and Keira Knightley taking on the parts of ill-fated schoolteachers who are accused of having a lesbian relationship.
A Classic of 20th Century Drama
The Little Foxes takes place in a small town in Alabama in 1900, and tells the story of three siblings who are struggling to retain control of the family wealth. Regina Hubbard Giddens (played on alternating performances by Laura Linney and Cynthia Nixon) is a young woman who is sidelined by her two brothers, Benjamin (Michael McKean) and Oscar (Darren Goldstein), with regards to inheriting the family wealth. Oscar has married an alcoholic woman named Birdie (also played on alternating nights by Linney and Nixon).
Regina has married a man named Horace (Richard Thomas), whom she has transformed into a bitter, wheelchair-bound greed monger on her quest for wealth and stability. Through a series of strategic deceptions, Regina finds a way to force her brothers to give her a majority stake in their new cotton mill business, but the question lingers of whether the cost of such treachery is worth the resultant loneliness. This play is a penetrating and powerful piece that is as resonant today as it was when it was first written.
Discount Broadway Tickets
---
---