Crazy For Cupcakes? Come To New York City
---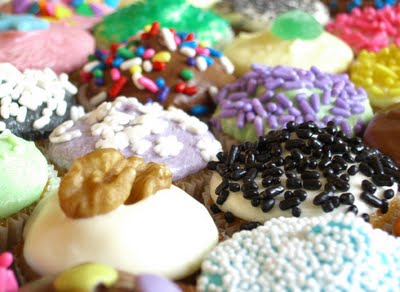 New York City is truly a cupcake lovers paradise, famous for its cupcake bakeries since a "Sex and the City" episode in which Sarah Jessica Parker eats a pink-frosted cupcake in front of Magnolia Bakery on Bleecker Street. Nine years since the episode aired, tourists still flock to Magnolia Bakery. New York City is crazy for cupcakes; cupcake bakeries can often be seen with lines out the door. Manhattan's Institute of Culinary Education leads cupcake tours and offers cupcake-making classes. And cupcake bakeries are being more creative than ever to cater to the masses, offering everything from vegan to gourmet cupcakes. Here are some of the best cupcake shops in New York City worth a visit:
Babycakes NYC
(248 Broome Street) serves up dairy-free, soy-free, egg-free vegan cupcakes, sweetened with agave nectar.
Buttercup Bake Shop
(973 Second Avenue) cupcakes are have decadent touches like German chocolate cake and almond white cake.
Crumbs Bake Shop
is a popular bakery with 10 locations throughout Manhattan that have large, sugary sweet cupcakes in flavors like watermelon, key lime, and cappuccino.
Magnolia Bakery
(401 Bleecker Street) is arguably the most famous cupcake bakery due to its exposure on Sex and the City and for their cupcakes baked fresh all day, every day.
Sugar Sweet Sunshine
(126 Rivington Street) is a vintage-themed bakery serving small buttercream cupcakes in simple flavors like red velvet and pistachio.